The holiday season is here and we know there's no better way to love on ourselves and our families than to give some grand gesture in the form of an over-priced gift, a thoughtful present or even something as sentimental as their favorite food or drink. Well, if your loved one just happens to get excited by the Paris-originated frozen dessert made of sugar, ice-cream and everything nice. Then these recipes are for you, as they will serve as your guide to making the best parfait in 5 minutes or less that will be sure to give you and your loved one, the most amazing time ever.
So Let's get into it:
1. MAPLE CINNAMON OATS AND VANILLA GREEK YOGHURT PARFAIT.
Ingredients: 1 cup vanilla (or plain) greek yogurt, 1/2 cup fresh blueberries, 1/2 cup fresh raspberries, 1/2 cup strawberries, sliced, 2 Tbsp old fashioned oats, 1 1/2 Tbsp maple syrup, 1/8 tsp cinnamon.
Toppings: Cinnamon Oats.
Steps:
Mix 2 tablespoon of oats, 1 1/2 tablespoon of Maple Syrup and 1/8 tablespoon of Cinnamon in a bowl and Set aside.
Pour your mixture into a glass.
Layer with 1/2 cup of greek yoghurt.
Add berries.
Add the remaining 1/2 cup of yoghurt to layer.
Top with Cinnamon oats.
Serve chilled.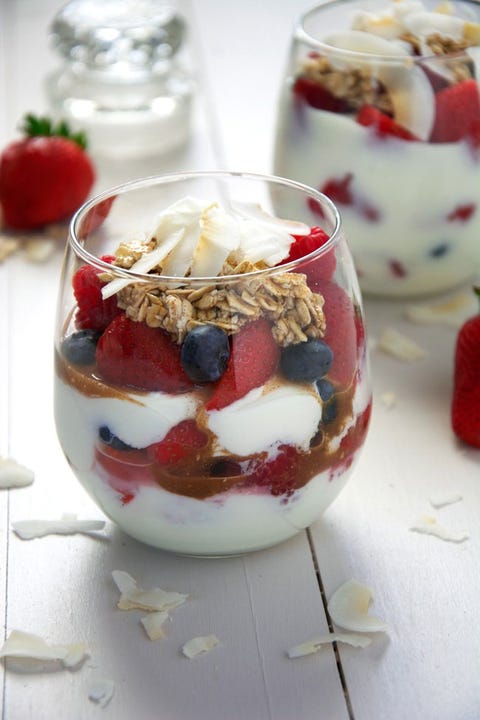 P.S. The quantity of ingredients depends on the number of people yearning to taste your amazing parfait.
2. STRAWBERRIES AND CREAM PARFAIT.
Ingredients:
For the macerated strawberries: 2 1/2 cups sliced strawberries (heaping cups), 3-4 tablespoons granulated sugar.
For the vanilla whipped cream: 2 cups heavy cream, 3/4 cups powdered sugar (or less if you'd like it less sweet),1 teaspoon vanilla extract, Sliced strawberries for garnish.
Toppings: Strawberries.
Steps:
Prepare your dessert glasses or bowls.
To glass dessert glasses (or bowls) add a couple of spoonfuls of macerated strawberries.
Pipe vanilla whipped cream on top.
Add more strawberries.
Layer with vanilla whipped cream.
Garnish with strawberries.
Serve chilled.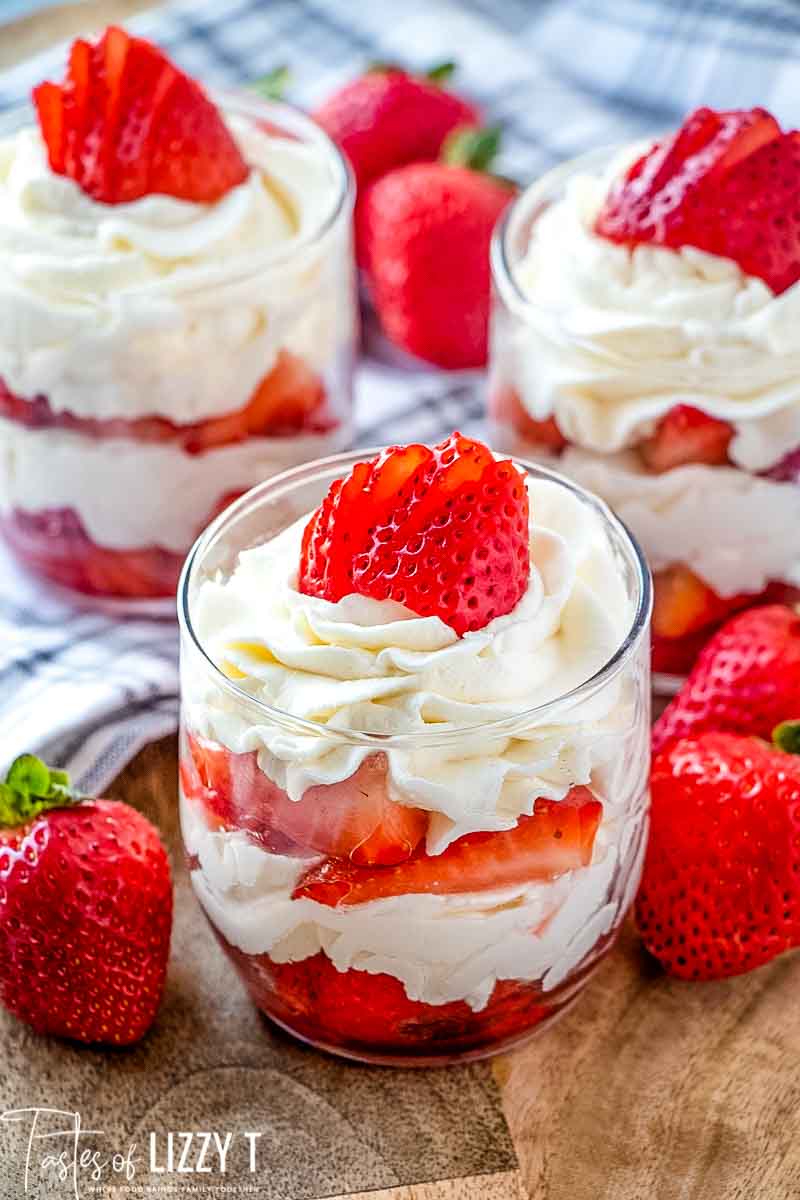 3. COOKIES AND CREAM PARFAIT
Ingredients: Dessert Glasses, 1 box of chocolate pudding and pie filling, 2 cups of milk, 2 cups of non-dairy whipped topping, 2 soft chocolate cookies.
Toppings: Chocolate Curls.
Steps:
Prepare pudding as package directs with milk
Pour one-quarter cup of pudding into the glass.
Top each with non-dairy whipped topping.
Crumble 1/2 a cookie onto each.
Top with 1/4 cup more pudding
Add 2 tablespoons more of the non-dairy whipped topping.
Garnish as Desired, Preferably with Chocolate Curls.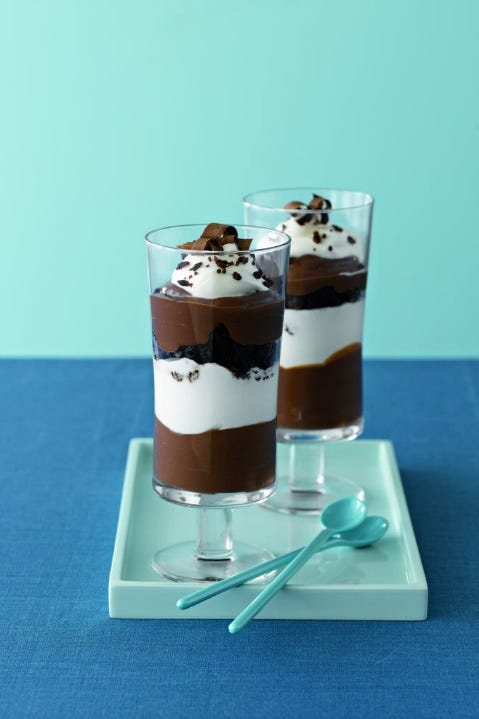 P.S: Toppings aren't necessary, they are really just added to beautify the parfait and also to add extra flavor, they include, but aren't limited to: Granola, Chocolate Curls, Cinnamon oats etc. I'd recommend them, but truthfully they could be done without.
4. BANANA CREAM PIE PARFAIT.
Ingredients:
For the Crust: 2 cups vanilla wafers crushed, 1/8 cup white sugar, 6 tablespoons melted butter.
For the Vanilla Pudding: 2 cups Almond Milk , 3/4 cup heavy cream, 1/2 cup sugar, 3 tablespoons cornstarch, 2 tablespoons all-purpose flour, 1/4 teaspoon kosher salt, 5 large egg yolks, 1/4 cup unsalted butter cut into 1/2″ cubes, 1 vanilla bean seeds removed.
For the Topping: 1 cup heavy cream, ¼ cup powdered sugar, 2 ripe bananas.
Steps:
Prepare the Crust, Vanilla Pudding and Topping separately using the listed ingredients.
Layer in the pudding into your glass.
Add whipped cream and sliced bananas.
Pour in your crumbled wafer mixture.
Serve with a dollop extra whipped cream.
Garnish as desired, preferably with ripe banana slices.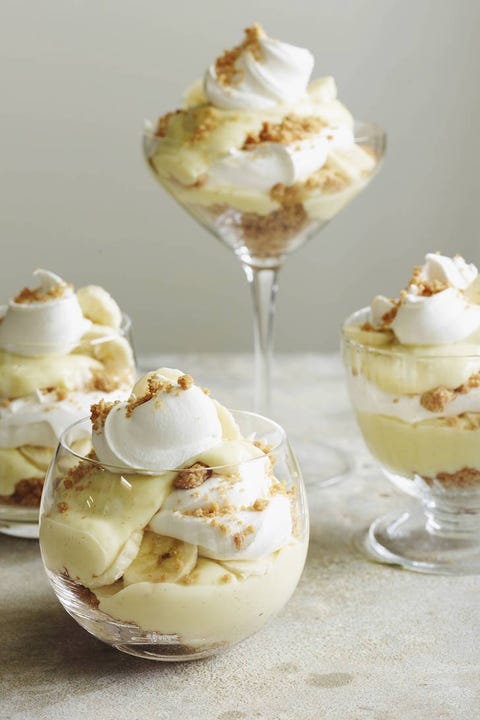 P.S. This is one of the healthiest drinks you could have for dessert. So whip up this mixture and be sure to end your day right.
5. RAINBOW FRUIT AND YOGHURT PARFAIT.
Ingredients: Sliced Strawberries, Chopped Clementines, Chopped Mangoes, 1/4 cup of Kiwi, 1/4 cup of Blueberres, Greek Vanilla Yoghurt, Granola.
Toppings: Granola.
Steps:
Pour in 1/4 cup of yoghurt into your chilled glass.
Pour in some of your Granola.
Add some strawberries.
Add clementines.
Pour in some yoghurt to create a layer.
Pour some of your mango slices into the glass.
Add the sliced kiwi fruits.
Layer with some yoghurt.
Add the blueberries to your mix.
Layer with your greek vanilla yoghurt again.
Top with granola.
Serve chilled or as desired.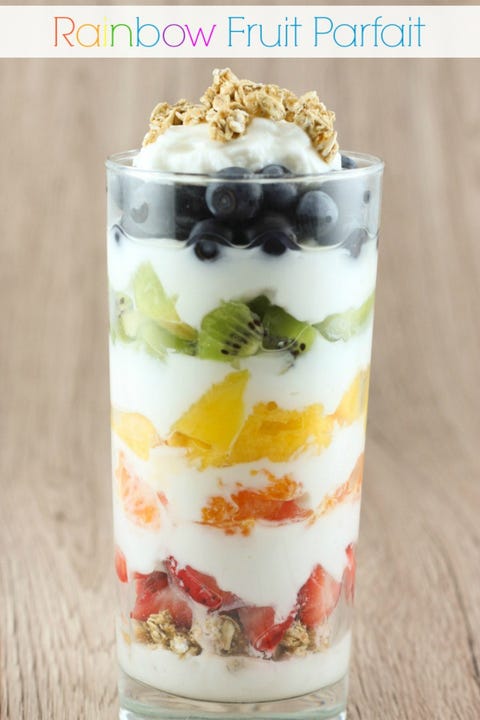 P.S. Parfaits are honestly God's gifts to this green earth, So make sure you enjoy them as much as you can, for as long as you can. (Yayy!)
6. RASPBERRY MOCHA MUDSLIDE PARFAIT
Ingredients: 8 ounces cream cheese, 1/3 cup granulated sugar, 1/2 cup BAILEYS Coffee Creamer, in BAILEYS Mudslide flavor, 2 tablespoons unsweetened cocoa powder, 1 teaspoon instant espresso granules, 1 cup heavy cream, cold, 4 ounces fresh raspberries, pureed, 12 chocolate sandwich cookies, finely processed, or approx. 1 cup of chocolate cookie crumbs.
Toppings: Raspberry
Steps:
Place the cream cheese and sugar in a large mixing bowl, and whip on medium speed until creamy and well-combined.
In a large liquid measuring cup, whisk the BAILEYS Coffee Creamer together with the cocoa and espresso powder.
Add the mixture to the bowl, scraping the sides down with a silicone spatula, and continue to mix on medium speed.
In a thin, slow stream, pour in the cold cream.
When all the cream has been added, turn the mixer up to medium high speed and whip until fluffy and stiff.
In small jars, layer the mousse with the cookie crumbs and raspberry puree.
Serve cold.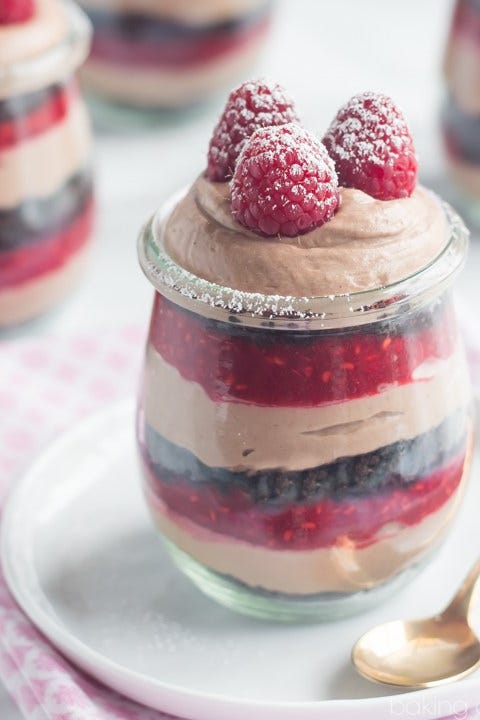 Reminder: All Toppings are optional.
Tips: Get a starbucks cup and take your parfait with you to work, school, the playground, and every other beautiful place you are headed.
Ideas for this post were gotten from: www.womansday.com www.tastesoflizzyt.com
Angel's Two Cents: Just like smoothies, there also isn't a wrong/right way to make a parfait. So never feel pressure. The magic is in the layering, and that's all you need to do right. Read my posts on easy smoothie recipes here: https://misspresident.home.blog/2020/05/29/10-easy-smoothie-recipes-to-make-in-5-minutes-or-less/
XO, ANGEL JOANNE
JOIN OUR COMMUNITY: LIKE, COMMENT AND FOLLOW THE BLOG.
.