Gingerbread Cookies are the ultimate ode to the festive season. They are the perfect Christmas Cookie for you to add to your Christmas Food Menu. From Gingerbread houses for kids, to decorating contests with Gingerbread men, We should all be in the know on How to make Spicy Gingerbread Cookies for Christmas season.
Gingerbread Cookies Recipe
Ingredients:
3/4 cup of softened butter.
3/4 cup. packed brown sugar
2/3 cup of molasses
1/4 tsp. ground nutmeg
1 tsp. pure vanilla extract
3 1/4 cup of all-purpose flour
1 tbsp. ground ginger
1 tsp. baking soda
1 large egg
1/2 tsp. kosher salt
1 tsp. ground cinnamon
1/2 tsp. ground cloves.
2″ piece fresh ginger, grated (optional)
Zest of 1 orange (optional)
1/2 tsp. finely ground black pepper (optional)
Sugar Cookie Icing, for decorating
Sprinkles, for decorating
Raisins (optional)
Steps:
Get a large bowl, then using a hand mixer, beat butter, brown sugar, and molasses inside the bowl for about 2 minutes until the mix turns fluffy.
Add egg and vanilla, and beat with the butter and sugar mixture.
In a second medium bowl, whisk flour, spices, baking soda, and salt together until a mixture is formed.
With the mixer on low, gradually add dry ingredients to wet ingredients, as well as fresh ginger, orange zest, and ground black pepper until the dough comes together. (Do not overmix!)
Divide the dough in half and create two discs.
Wrap each in a plastic wrap and chill for about 2 to 3 hours until firm. (Alternatively, divide dough in half and roll each piece of dough between two pieces of 1/4 thick parchment. Chill until firm.)
Preheat oven to 350° and line two large baking sheets with parchment paper.
Place one disc of dough on a lightly floured surface and roll until 1/4″ thick.
Cut out the desired shape of gingerbread men with a 3″ wide cutter and transfer to baking sheets.
Put in the oven and and set to 10 minutes, and allow the dough bake until it's puffy.
Let cool on baking sheets for 5 minutes before transferring to a cooling rack to cool completely.
Repeat with remaining disc of dough.
Decorate with icing, sprinkles and raisins as desired.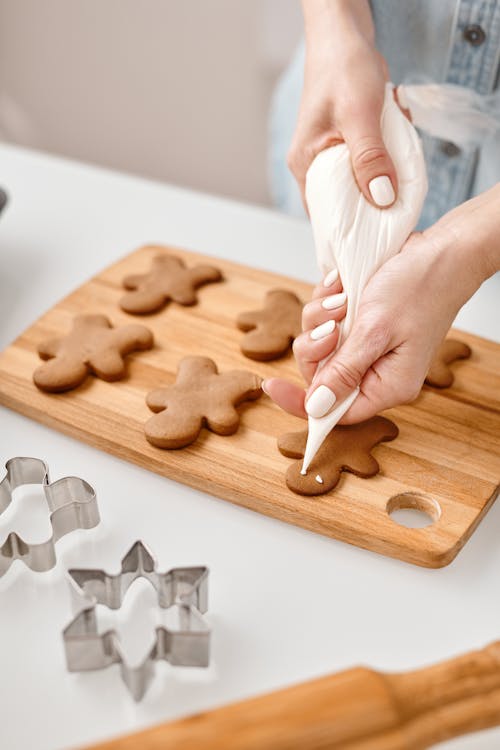 AJ's Two Cents: You can always serve your spring rolls with a smoothie or parfait, and we have the perfect recipes for that. Read our post on easy smoothie recipes here: Best Smoothie Recipes, and if your pick is our favourite frozen dessert–Parfait, then be sure to check our quick parfait recipes to make the perfect Christmas holiday parfait. Best Parfait Recipes.
P.S. Gingerbread Cookies make the absolute best gifts, You can make them into Twix Bars, Waffles, Muffins, Marshmallow treats and share them to all your loved ones this Christmas Season. They can also last longer than a week if you store them in an airtight container at room temperature.
P.S. Get more CHRISTMAS POSTS AND GIFTS FROM MISSPRESIDENT
Ideas for this post were gotten from: www.delish.com www.hellowonderful.co
XO, ANGEL JOANNE
JOIN OUR COMMUNITY: LIKE, COMMENT AND FOLLOW THE BLOG.