Chinese Chicken spring rolls are a gift to the earth. Those crispy rolled appetizers or dim sum found in East Asian cuisine, has satisfied not only our mouths, but also our hearts. The mouth-watering appetizer proffers a light-weight but filling finger-food, and it includes recipes for all kinds of people, including vegetarian, vegan, chicken-loving, fruit-nurturing and all kinds of food lovers.
Despite there being multiple spring roll recipes that are sure to turn spring rolls into your favorite appetizers, This post is going to focus on Chinese Chicken SpringRolls.
Chinese Chicken Spring Rolls Recipe.
Ingredients:
1 tbsp soy sauce
1 tbsp rice wine or white wine
1/4 cup water
1 tbsp fresh ginger grated
1 pinch black pepper freshly ground
1 tbsp cornstarch
Vegetable oil
1/2 head of small cabbage shredded
500 gms – 1 lb. ground chicken
2 tbsp vegetable oil divided
2 cloves garlic finely minced
2 tbsp oyster sauce
1 stalk green onion chopped
2 carrots shredded.
50 spring roll wrappers defrosted.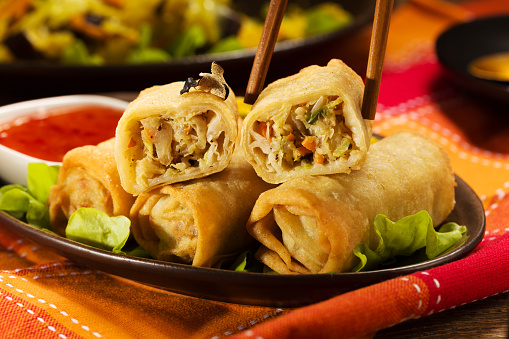 Steps:
In a large bowl, combine the soy sauce, wine, pepper and cornstarch. Add the chicken mince and mix well. Allow this mix marinate for 10 minutes.
Heat a wok over high heat. When hot, add 1 tablespoon of the vegetable oil.
Stir fry the ground chicken until brown, then remove it and set aside.
Wipe the wok clean and turn the heat to medium. When warm, add the remaining vegetable oil.
Add in the green onion, garlic and ginger and cook for 30 seconds without burning them.
Include the carrots and cabbage into the wok. Stir well and turn the heat to medium-high. Stir fry the vegetables for 2 minutes or less depending on when the carrots soften.
Add the cooked chicken and the oyster sauce into the wok and mix well.
Spread the mixture onto a baking sheet to let it cool. Make sure to prop up the baking sheet on one end to prevent any liquid from collecting on the other side. When the mixture is cool, discard the liquid.
In a small bowl, whisk together the cornstarch and water (this will help you seal the spring rolls). Open the spring roll wrapper package and cover the wrappers with a damp towel to prevent them from drying out.
To fill the spring rolls, place the wrapper like a diamond on a clean and dry surface. Place 1 tablespoon of filling near the bottom corner.
Fold over the corner and roll tight, without leaving air pockets. Fold over the left side, then fold over the other side and keep rolling tight.
Paint a little cornstarch slurry along the edge and close it up.
Place them seam side down and keep them covered with cling wrap to prevent them from drying out.
Deep fry them in hot vegetable oil at 175°C – 350°F, turning occasionally until evenly brown. This will take about 2 or 3 minutes.
Put them on a plate lined with kitchen paper to get rid of the excess oil.
Serve immediately with dipping sauce.
P.S. Wok is a bowl-shaped frying pan used typically in Chinese cooking.
Tips: Always make sure you eat your spring rolls with the best dipping sauce. Some of Miss-President approved dipping sauces are: Vietnamese fish sauce, BBQ Sauce, Thai peanut sauce, Soy sauce etc. Be sure to get a post on the best dipping sauce recipes soon.
Angel's Two Cents: You can always serve your spring rolls with a smoothie or parfait, and we have the perfect recipes for that. Read our post on easy smoothie recipes here: https://misspresident.home.blog/2020/05/29/10-easy-smoothie-recipes-to-make-in-5-minutes-or-less/ if your pick is our favourite frozen dessert–Parfait, then be sure to check our quick parfait recipes to make the perfect combination parfait. https://misspresident.home.blog/2020/12/08/6-quick-recipes-to-make-the-perfect-holiday-parfait/
Ideas for this post were gotten from: www.howsweeteats.com www.drivemehungry.com www.manusmenu.com
XO, ANGEL JOANNE
JOIN OUR COMMUNITY: LIKE, COMMENT AND FOLLOW THE BLOG.