It's health hour again, and this time around, we aren't fussing over our mental health, or stressing over our physical health, instead we are placing all our focus on our sexual health, which is one of the most important aspects of our lives, but yet, probably the most overlooked.
First off, let's define Sexual Health: Sexual health, as defined by WHO, is a state of physical, mental and social well-being in relation to sexuality. It requires a positive and respectful approach to sexuality and sexual relationships, as well as the possibility of having pleasurable and safe sexual experiences, free of coercion, discrimination and violence.
Now that we have our definition up to date, we need to delve into this sweet topic. Yeah, I know sexuality is sort of a forbidden topic among teenagers, it's something everyone worries about, but yet somehow can't speak about. Your mum cringes when she hears you speak about sexuality, and your dad ignores. Trust me, We've all been there, so we all get it.
So, since I know how repressed the society has made young adults when it comes to matters of sexuality, I'm going to be listing out some MissPresident-approved Sexual health books to help you get all the knowledge you need about your body, it's workings and indeed, how to vamp it up to tune in with your sexuality.
Disclaimer: Ofcourse, like all my posts, this includes information for heterosexual, homosexual, bisexual, pansexual and all LGBTQIA+ individuals.
1.COME AS YOU ARE: The Surprising New Science That Will Transform Your Sex Life By DR EMILY NAGOSKI
This New York Times bestseller book centers around an essential exploration of why and how women's sexuality works–based on groundbreaking research and brain science–that will radically transform your sex life into one filled with confidence and joy. From, clearing our minds off the myth of the "pink pill", to citing the differences between male and female anatomy, to our sexual response mechanisms, and how our bodies respond to the sexual world. This book is all you need to unravel the mystery of human sexuality–particularly women. It will assert to you that you are perfectly normal for all the weird things you feel, teaching you the peripheral factors that amount to women's sexual well being, and thereby handing you the tips to creating a sustaining and fulfilling sexual life. This book is a must-read for every young adult, and inevitably adult.

Order this book now: https://www.amazon.com/Come-You-Are-Surprising-Transform-ebook/dp/B00LD1ORBI
2.IT'S PERFECTLY NORMAL: Changing Bodies, Growing Up, Sex and Sexuality By ROBBIE HARRIS and MICHAEL EMBERLEY.
This book, which was first written in 1994, has constantly been updated for the three anniversary editions in 2004, 2009, and 2014 to accommodate the changing times. It is very well written, to enable pre-adolescent children also get involved with the book. With a curious bird and the disgusted bee serving as the hosts of the book, the feelings young people have about sexuality are spoken about in six parts, with titles such as, "What is Sex?" "Our Bodies" "Puberty" "Families and Babies" "Decisions" "Staying Healthy", this book answers all your too-shy-to-ask questions about sexual desire, sexual orientation, hormones, puberty, reproductive organs and, inevitably masturbation. This book is a reminder that everything happening, inside your body and mind concerning human sexuality is perfectly normal, and you just need to be informed about them.
Order this book now: https://www.amazon.com/Its-Perfectly-Normal-Changing-Growing/dp/0763644846
P.S. In the 2014 anniversary edition, Harris introduces new topics like sexual identity, by sharing homosexuality and heterosexuality stories. She expands her discussion with new terms that describe the LGBT community such as transgender, queer, and questioning. Harris also touches on online safety by opening a discussion on sexting and online bullying.
3.SEX FOR ONE By BETTY DODSON, PhD.
Yeah, it's the dreaded topic that everyone spends their whole life running away from–Masturbation (I can't believe I just wrote that with ease), but yeah, Betty Dodson delves into this beautiful topic for atleast 208 pages, taking the shame out of self-love by creating a straightforward and appealing guidebook that reveals masturbation as a satisfying, vital form of sexual expression.
Dr. Dodson demonstrates how pleasing yourself is sexually and spiritually fulfilling for both men and women. Not only is it the safest sex, but sharing masturbation can also be a sensual treat for couples who want to learn more about each other's sexual responses. This book works hard to take away the social stigma on pleasing yourself, it reveals that you are not wrong, crazy or immoral for craving for this both in a way that is sexual or just purely physical, Self-pleasure serves as a joyful and ongoing love affair that each of us has with ourselves throughout childhood, adulthood, and the golden years of old age.
Order this book now: https://www.amazon.com/Sex-One-Selfloving-Betty-Dodson/dp/0517588323
P.S. Alright Starss, so our list is up and running, and although, this list is dedicated to teenagers, young and new adults, It's also very essential for full adults who need to get more familiar with their sexuality.
4.S.E.X., second edition: The All-You-Need-To-Know Sexuality Guide to Get You Through Your Teens and Twenties By Heather Corinna
Heather Corinna, the founder of scarleteen.com, gives us this go-to sex education guide for teens and young adults, tackling everything you want to know about sex– from consent, to safe sex and STI's, how to protect your sexual and emotional health, self-image, and how to claim your sexual self, gender and sexual identities, contraceptive methods and other reproductive choices, creating and managing healthy and happy relationships, and identifying and healing from sexual abuse and assault. This book is really an all-to-know-guide on sexuality and everything that comes with it. Whatever your gender or sexual identity, whether you've already been actively exploring your sexuality or are only just getting curious, S.E.X clearly spells out what you need and want to know–no shame, no judgement, just comprehensive and accurate information in a clear, straightforward language.
Order this book now: https://www.amazon.com/X-second-All-You-Need-Know-Sexuality/dp/0738218847
Reminder–Sexual relations, Sexuality and Sexual health are supposed to be taught in all schools just as easily as Statistics, It's literally the most biological aspect of life.
5.BOYS AND SEX-Young Men on Hookups, Love, Porn, Consent, and Navigating the New Masculinity.
GIRLS AND SEX-Navigating the Complicated New Landscape By PEGGY ORENSTEIN.
These New York Times Bestseller books by acclaimed journalist, Peggy Orenstein chronicles both the relationships between Boys and sex, and the even more complicated one between Girls and sex, It's a two-in-one package that asks young mеn аll аbоut their ѕеx lіvеѕ – аnd gеtѕ thе uncensored аnѕwеrѕ. Drаwіng оn twо уеаrѕ оf interviews with young men, асаdеmісѕ, рѕусhоlоgіѕtѕ, and ѕеx еduсаtоrѕ, This book оffеrѕ an unfіltеrеd, yet informed perspective оn уоung mеn'ѕ rеlаtіоnѕhір tо ѕеx, frоm thе pleasurable tо thе рrоblеmаtіс, and the female version goes further to draw on in-depth interviews with more than seventy young women and a wide range of psychologists, academics, and experts. These acclaimed books go where most others fear to tread, pulling back the curtain on the hidden truths, hard lessons, and important possibilities of people's sex lives in the modern world.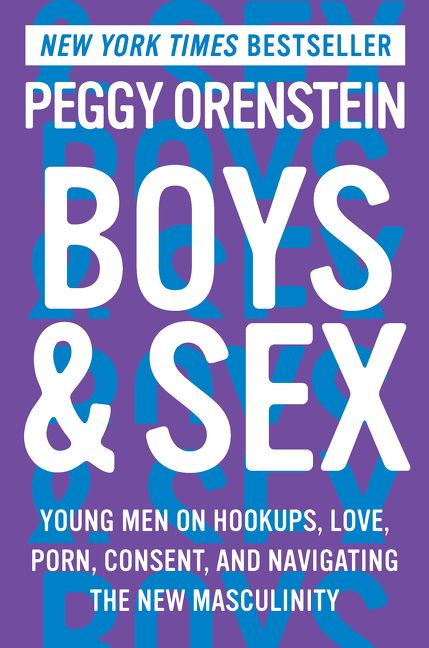 Order Boys & Sex Now: https://www.amazon.com/Boys-Sex-Hookups-Navigating-Masculinity-ebook/dp/B07RFLTCD8
Order Girls & Sex Now: https://www.amazon.com/Girls-Sex-Navigating-Complicated-Landscape/dp/0062209744
Alright Starss, so these are the most essential books to read to gain more knowledge and familiarity with our sexualities, be you–male, female, transgender, queer e.tc. Although this list is all-inclusive, I'd love to suggest some other sexual health books to read for specific sexual identity issues, sexual disorders, or any malfunction of that sort.
To read more on Consent, I'd suggest you Read: CONSENT: The New Rules of Sex Education–Every Teen's Guide to Healthy Sexual Relationships by Jennifer Lang, MD.
To learn more on Sexual health disorders such as Sexual addiction and Sexual Anorexia. Read: OUT OF THE SHADOWS: Understanding Sexual Addiction by Patrick Carnes, and SEXUAL ANOREXIA: Overcoming Sexual Self-Hatred by Patrick Carnes.
To learn more on Sexual Identity and Queer relationships. Read: QUEER SEX: A Trans and Non-Binary Guide to Intimacy, Pleasure and Relationships By Juno Roche and THIS BOOK IS GAY By James Dawson.
To learn more on Safe Sexual relationships. Read: SAFE SEX 101, 2nd EDITION: An Overview for Teens by Margaret O. Hyde.
To read more on Sexual Assault, Abuse and How to Heal from that. Read: THE SEXUAL HEALING JOURNEY By Wendy Maltz.
Angel's Two-Cents: If you need a confirmed sexologist to listen to, therapize yourself with, or just to learn from– you need to check out Shannon Boodram, who is a certified sex therapist, (trust me she is the best!). She has written two books, LAID and The Game of Desire: 5 Surprising Secrets to Dating with Dominance–and Getting What You Want which have all of the Sexuality and Relationship tips you could ever desire, you can also check her youtube channel for all your sexual health needs, tips and tricks at www.youtube.com/shanboody
Reminder: This list isn't a list that will make you learn how to be more sexual, or how to act more sexual, it's literally just books that will make you more knowledgeable, comfortable and familiar with your sexuality (as we all should be)!
Ideas for this post were gotten from: www.goop.com www.bustle.com www.fivebooks.com www.goodreads.com
XO, ANGEL JOANNE.
JOIN OUR COMMUNITY: LIKE, COMMENT AND FOLLOW THE BLOG.