We all know how annoying it can be to get excited for a trip, eventually make the trip, arrive at our destination and realize we have forgotten some very important item(s), (I personally always feel like scratching out my eyes), but then again that hasn't happened to me in a while, because I have coined certain packing hacks that have helped me get ready for trips in one less minute, such as: always keeping toiletry bags packed so when you're prepping for a trip, it's one less thing to think about, and of course estimating the items needed in comparison to the size of your luggage, I'd share more of them in subsequent posts.
But of course before that, we have to focus on some of the essential items needed before you hop on that plane and make that next trip (especially now it's summer).
Of course this list entails provisions for both male, female and other genders.
P. S. I advice you gather each of the items titled under one collection into one bag, and maybe even label them for clarity, days before your trip, and then the night before, you can just organize them in your preferred luggage.
Surprise: Guess what Starss, I have a huge surprise for you all, You can make your trip to Venice, Paris and any of your favourite dream destinations in the world in two seconds. With TravelStart, you can make that trip right now, and live to enjoy it. Click the link down below, and get the most exciting travel packages your mind could ever envision. Your vacation starts right now: https://www.travelstart.com.ng/?affId=216998&utm_source=affiliate&utm_medium=216998
1.Get The best luggage in the world.
Honestly, you can't go wrong with a luggage, it's all about choosing the one that suits your needs and matches your preference, You could always choose among a rolling luggage, a 4-wheeled luggage, a duffel bag, a carry-on, and certainly, a wheeled backpack (this is necessary if you are going to be going through different types of terrain, having a bag with options to roll or carry is always the best bet).
2.Clothing Bag must-haves
Clothing is a travel staple, you need to pack weather-appropriate, cultural-appropriate and still yet essential, forever fashionable clothing for your next trip, and of course you can never go wrong with:
Lightweight clothing that can be layered
Long-sleeve shirts
Sweaters, Blazers or A Jacket
T-shirts and tank tops (be respectful of the culture you are visiting)
Pants and/or shorts
Belts (Preferably leather)
Socks (Wool socks are best for hiking)
Comfortable walking shoes
Comfy, easy, city sneakers.
Pajamas/sleepwear (Preferebly a onesie-they are very easy to remember and they don't occupy much space in your carry-on)
A slip dress/ Wear-with-anything-top (These are usually made with minimal fabric, and they have a subtle lingerie feel, and of course they can be paired with literally anything: denim, leather, a cozy cardigan, dress pants, a wild printed skirt…even a pair of straight-leg sweatpants)–Absolutely necessary!
Underwear (like you could forget!)
Lingerie (of course if it's a honeymoon trip)
Dresses and/or skirts
Jeans (You cannot leave a fashion staple such as jeans behind, cause you can literally throw anything on it and look great)
Flattering Swimwear
Sportswears/Tracksuits (If you are into fitness of course, No pressure!)
3.Accessory Bag must-haves
Sunglasses and a case (especially if you are visiting a tropical region)
Jewelry (organized in a jewelry box– I advice against packing bold, flashy or statement-worthy jewelries, You can make all the noise in familiar territory)
Scarf or Bandana (For layering clothes, especially in fall or winter)
Hat or Face Caps
Go-to bag (You need a handbag that would be able to serve multiple purposes, such as being chic at the same time fashionable, durable at the same time reliable, so you should definitely take the favorite one in your wardrobe)–I recommend a tote bag though.
Watch/Time Piece.
4.Makeup and Beauty Kit must-haves
For the general makeup kit must haves, you have to read: https://misspresident.home.blog/2019/07/24/makeup-kit-must-haves-for-beginners-in-any-season/, but for a trip, we don't exactly need every single makeup item in our kit, just the beauty products we can't and shouldn't leave without.
A reliable makeup bag
Makeup wipes
Moisturizer
A reliable brush/applicator set
A great foundation
Translucent Powder (Laura Mercier is my all-time favorite, but of course you can use whatever brand makes your heart sing!)
A highlighter/bronzer (you really need to get that summer glow on)
Your three favorite lipstick shades
Full-proof Water Resistant Mascara (Because you deserve it!)
A stunning eyeshadow palette (Maybe try one in the nude family)
Hair tools (Combs, Brushes)
Sunscreen (No Sunburns Allowed!)
Hand and Eye creams
Face masks (Preferably a hydrating and illuminating face mask to suit your beauty needs)
5.Toiletry Bag must-haves
You need to take all of your own skin care and toiletry items because what happens when you end up in a city that doesn't have any of the products you like, you are forced to jump ship to other alternatives which may result in numerous problems if you have sensitive skin like mine (Honestly it'd feel like hell if you have an allergic reaction on a trip!)
A soothing pillow spray (this may sound crazy but pillow sprays helps to restore natural sleep balance and aids natural sleep so you can get your necessary seven hours of beauty sleep.)
Deodorant (Never, ever leave this behind!)
Your favorite perfume/body spray
Shower gels/ Bathing Soaps
Soap Bag/Case
Body Scrubs/ Body washes
Skin care items (Body lotions, creams, oils and gels)
Travel-size Toothbrush
Travel-size Toothpaste
Tampax
Eye mask (especially if you are flying Economy class)
Facial cleanser
Mouth wash/Mouth spray (You could always have a vacation fling!)
Travel Towel
Paper Towels/Toilet papers
Nail clippers, Scissors, Tweezers.
6.Electronics Bag
Polaroid Camera (Now you'd live forever–That's exactly how you'd feel after taking a picture with your polaroid camera, It would literally transform your travelling experience to the most memorable one, and of course give you a story to tell in later years)
Mobile device and charger
Laptop, iPad, or E-reader and charger(s)
Headphones (consider noise-reducing headphones if you're sensitive to sound)
Electrical converters and adapters
Game Equipments
Language apps (If you're going to a foreign city with a foreign language, you may just want to learn a few pleasantries to greet the locals).
7.Travel Comfort Bag
Travel Pillow, Blanket, Eye mask, and Ear plugs
Travel journal and pen (This is necessary if you intend to write about your experiences there, and it's actually advisable to do that)
Books and magazines
Deck of cards and travel games.
Guide books, travel guides, maps, language guides, etc. (These should go in your hand luggage).
8.Travel Health Bag
You also need to have all your prescription medicines and first-aid equipments packed for your trip, taking into consideration the weather of your travel destination, and the conditions it is prone to.
Healthy digestion vitamins (Use as advised for whenever you feel bloated)
First aid kit (Bandages, gauze, adhesives, etc.)
Personal prescriptions (copies of scripts)
Pain and fever relievers (Take any child(ren) involved into consideration when making a choice on a preferred brand)
Thermometer (Because sometimes we can be our own doctors)
Cold medicines and throat lozenges
Diarrhea/laxative medicines
Allergy medicines
Hydrocortisone cream/antibacterial ointment
Multivitamins
Sunburn relief
Insect repellent/mosquito net/sting reliever
Medicines and vaccinations specific to the region/activity
Sleeping Medicine (If extremely necessary)
Hand Sanitizer
9.Travel Documents Essentials
Passport/visa(s)
Personal ID/Student ID card – (If you're a student)
Frequent flyer card(s) and other loyalty program card numbers (ex: hotel chains and AAA)
Cash and credit card(s) – Call your credit card companies before you travel to inform them of your travel (otherwise they might turn them off to prevent perceived fraud)
Health insurance cards/document(s)
Travel insurance information
Reservations and itineraries – print them and save them electronically for easy access
Hotel and/or tour contact information
Transportation tickets (plane, train, bus, car, etc.)
Emergency contacts and important addresses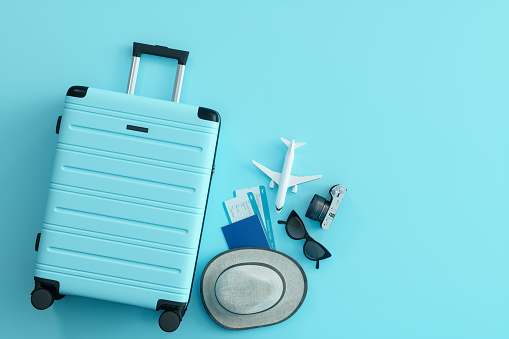 10.Extra must-haves
A travel-friendly wallet
Travel-size Umbrella
Travel pillow (These offer a three-way support system that helps keep your head, neck and chin completely supported while you have your beauty sleep).
Water Bottle.
P.S. If you do your research and your destination doesn't have any of your favorite snacks, be sure to take them–In a limited amount though.
Sometimes the next place, you are travelling to may just be college, (Congratulations!) Of course if it is, I've got you covered with the College Essentials list you can't miss out on. https://misspresident.home.blog/2019/07/23/college-essentials-dont-go-to-college-without-me/
XO, ANGEL JOANNE.
JOIN OUR COMMUNITY: LIKE, COMMENT AND FOLLOW THE BLOG.