The second part of the three-part series on my top three dream travel destinations is live now, (The week flew by!), and of course, this week, I'm going to be talking about the beautiful, beautiful Cannes, detailing the best places to visit there, the best restaurants to eat at, the best hotels to stay in, the best activities to do, the frequently asked questions about the city, and lots more.
To read my first post on PARIS: Make sure you click: PARIS TRAVEL GUIDE
Surprise: Guess what Starss, I have a huge surprise for you all, You can make your trip to Venice, Paris, Cannes and any of your favourite dream destinations in two seconds. With TravelStart, you can make that trip right now, and live to enjoy it. Click the link down below, and get the most exciting travel packages your mind could ever envision. Your vacation starts right now:
https://www.travelstart.com.ng/?affId=216998&utm_source=affiliate&utm_medium=216998
CANNES
Cannes–the city of luxury is a city located on the French Riviera. It is a commune located in the Alpes-Maritimes department, host city of the annual Cannes Film Festival, and one of my dream destinations. I've always been a lover of this city, and of course just like I have imagined my Parisian fairytale wedding to the golden-haired french model, I also can't seem to get over the blue-eyed Cannes actor. I can already see us walking out to the beach together while munching on some macarons and basking in the beautiful sunset, right after attending the Cannes Lions International Festival of Creativity. The city is known for its association with the rich and famous, luxury hotels and restaurants, and for several important conferences, so of course if you want to feel like actual glitz, glamour and royalty, you need to visit Cannes.
10 must-see places to visit in Cannes
Truth is, everywhere in Cannes deserves to be seen, It is one of the most beautiful places in the world, with a great historical record, but for the purpose of clarity, I'm going to be narrowing down the 10 most important places to visit on your next trip to Paris.
Palais des Festivals et des Congres
The Palais des Festivals et des Congrès is the venue of the Riviera's most glamorous red-carpet affair, the Cannes Film Festival. The building has been around for about 32 years and has been used for various events, conferences and festivals year round. In addition to the film festival, the building also hosts the G-20 Summit (Let me hear you say, Power), the international music trade show "MIDEM", and the MIPTV (International Television Programme Market) events. The Palais des Festivals has an impressive complex of buildings which features state-of-the-art technical apparatus, and there is also a restaurant on site to get all your favorite french desserts which would make you feel like you were on a real life movie set. So of course if you want to feel like Power, glitz and glam you need to visit the Palais des Festivals.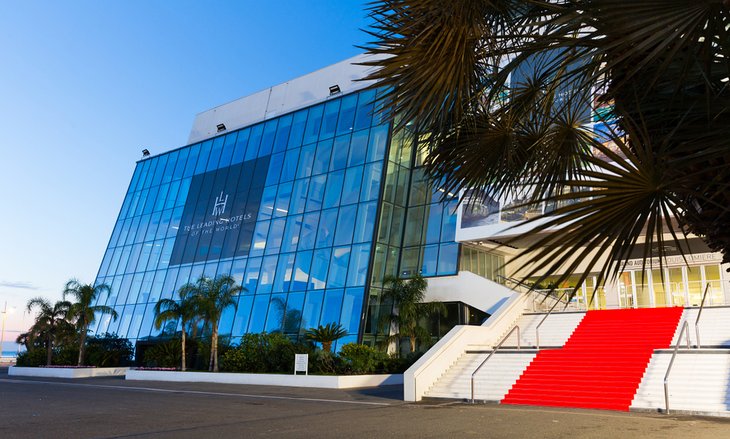 Palais des Festivals is open every day for 24 hours.
Iles de Lerins Islands
The Iles de Lérins islands are a group of four Mediterranean islands off the French Riviera, in Cannes. The two largest islands in this group are the Île Sainte-Marguerite and the Île Saint-Honorat. The smaller Îlot Saint-Ferréol and Îlot de la Tradelière are uninhabited. The two islands are an actual delight, offering peace and quiet and rocky inlets to enjoy. Walking through The Île Sainte-Marguerite is just like having a slice of history cause it holds a fortress where the Man in the Iron Mask was held captive for a time.
Iles de lerins is open from 1 May to 30 September, The first boat out is at 9.00 am, and the very last ferry back to Cannes is at 18.00.
Musee de la Castre
On a hill overlooking the Bay of Cannes, the Musée de la Castre occupies a classified historic monument, a medieval castle that was formerly the monastery of Lérins monks. The Castre Museum is surrounded by a Mediterranean garden and boasts exceptional views of the coastline and sea, and has a superb collection of Mediterranean antiquities, pre-Columbian primitive art, and 19th-century Provencial landscape paintings. Visitors can climb to the top of the building's 12th-century tower to take in the breathtaking 360-degree panorama of Cannes and its surroundings. (Life doesn't get better than that, right).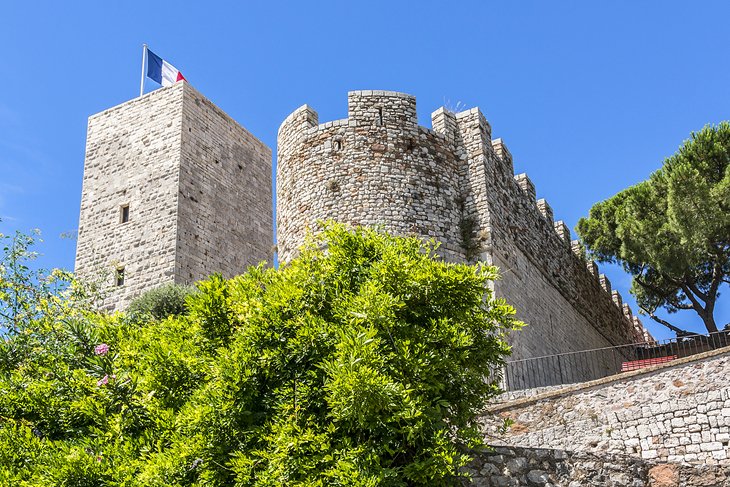 Musee de la Castre is open daily from 10am–1pm, and 2pm–6pm .
Public Beaches
Cannes is famous for its fine sandy beaches, with gorgeous views and calm Mediterranean waters ideal for bathing. Including the nearby îles de Lérin and Estérel coastline, there are seven kilometers of beach property in Cannes. With so many options, there is something for every visitor. While many of the beaches in Cannes are private property owned by hotels, there are several beaches open to the public. These include the Macé Beach and the Zamenhof Beach, located off the Boulevard de la Croisette. These beaches charge a small fee for use of the lounge chairs and parasols.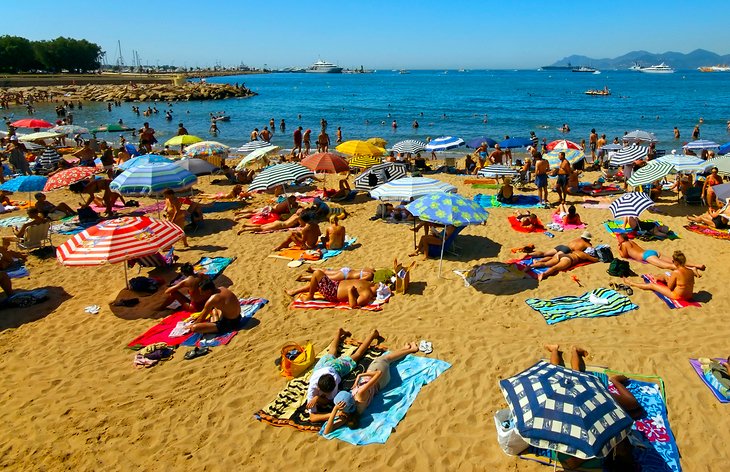 The public beaches in Cannes are always open.
Private Beaches
As an exclusive seaside resort town, Cannes also has upscale private beaches that require entrance fees. Fashionable private beaches along the Boulevard de la Croisette include the Plage Croisette, with a fancy restaurant that serves Provençal cuisine; the Royal Plage that has a casual restaurant with a pleasant patio area; CBeach, with a restaurant focused on seafood; and Bâoli Beach, which boasts an exceptional gastronomic restaurant.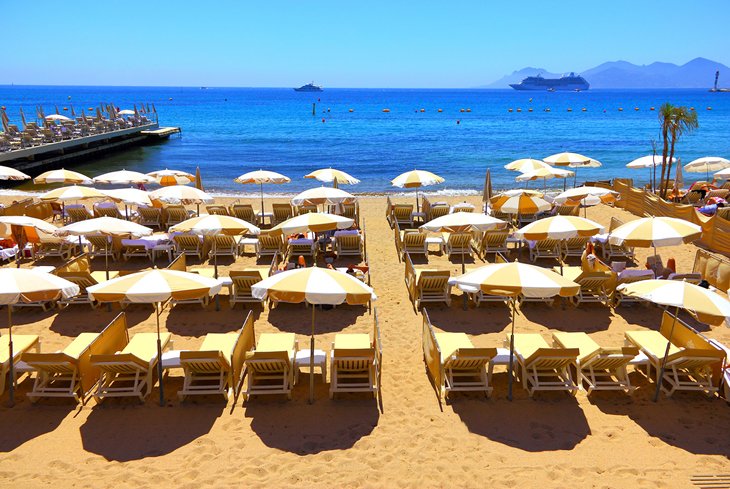 Private Beaches in Cannes are usually open from 9:00 A.M. to 6:00 P.M.
Musee de la Mer
This unique Museum of the Sea is on the Ile Sainte-Marguerite and well worth a visit in its own right. Off the shore of Cannes features exhibits devoted to the prison system and to underwater archeology collections. The museum's highlight is the exhibit devoted to the mysterious Man in the Iron Mask.
Musee de la mer is usually open from 9am–5pm daily.
Notre-Dame de l'Espérance
The Notre-Dame de l'Espérance is the most important church in Cannes. When entering the church, visitors are struck by the peaceful interior and the inspiring heights of its Gothic vaulting. The church also features a mix of architectural styles, including a Renaissance porch plus an organ that was installed in 1857 and has been recently renovated. In July, the square in front of the church is illuminated and becomes a magical outdoor venue for the Nuits Musicales du Suquet (Musical Nights of Le Suquet), a classical musical festival featuring one week of performances under the stars.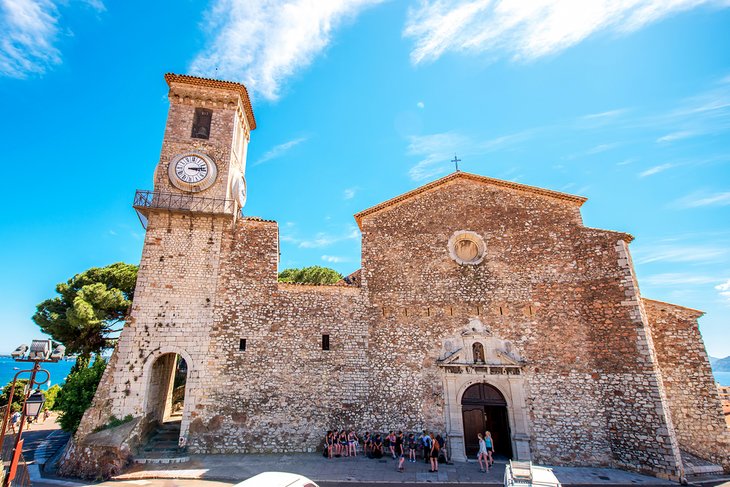 Notre Dame L'ésperance can receive guests whenever it is open to the public.
La Croisette Boulevard
Few spots better symbolize the glamour of Cannes than La Croisette, the stretch of sidewalk that runs along the shoreline. La Croisette looks out to the Mediterranean on one side and is lined with top palace hotels like the Martinez, the Carlton and the Cannes Intercontinental on the other, all separated by a stately line of palm trees. There are vendors selling souvenirs, billboards promoting the film festival and upscale shops across the street. Best of all, there are wonderful cafés along the beach and, for a fee, you can rent a sun-lounger and umbrella on one of the private beaches belonging to the hotels and sip an extremely expensive drink a few feet from the water. During the famous Cannes Film Festival, the stars stretch out on the private beaches, surrounded by the paparazzi. (La Croisette is basically paradise in Cannes).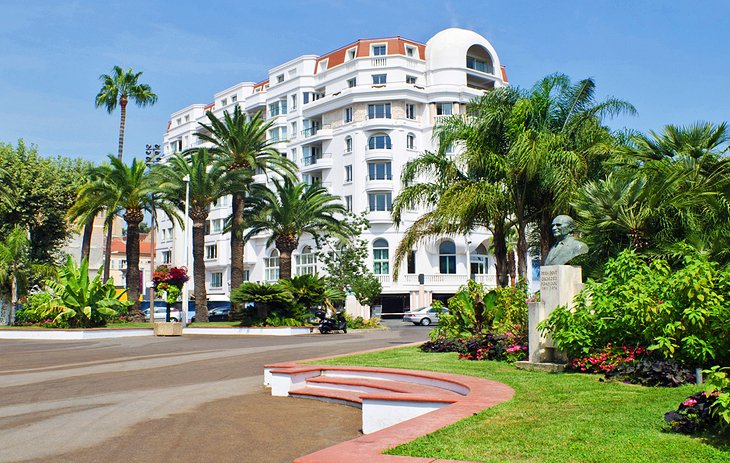 Lac Croissette Bouvelard is always open to the public, although the individual cafe's and shops have their own opening and closing hours.
Rue Meynadier
La Rue Meynadier is essentially the land of everything, there are lots of shops and cafes/bars but no cars or scooters (heaven!). There are so many cheese and nougat shops which offer free taste samples (paradise!) It's a great place to escape the midday heat as the narrow streets are well shaded and sheltered from any coastal breeze, and there is usually a healthy buzz in the early evenings. (It is also about 2 blocks away from the sea, so you are sure to have your eyes filled with awe-inspiring sights).
Just like La Croissette Boulevard, Rue Meynadier is always open to the public, but the shops and cafe's have their own working hours.
Square de Verdun
This picturesque park is covered with rows of pink, purple and yellow flowers bordering the pathway. It's a dainty little place with a quiet and peaceful ambiance. There are several benches where you can sit, rest your feet and admire the lovely rosebushes under the shade of large palm trees.
Square de Verdun is open daily from 8:30am–6:30pm
10 Fun Activities to do in Cannes
Take a ferry from Cannes to St.Tropez-The best thing about visiting the french riviera is that all the cities are closely linked, so you can easily move from Cannes to St.Tropez, to Antibes, to Frejus, to Monaco and be back in the same day, so of course, a ferry ride to St.Tropex and back is one of the best gifts you could give yourself during your Cannes vacation.
Catamaran Cruise– When you are in the city of glitz and glamour you owe it to yourself to treat yourself like actual royalty, and a daytime or sunset catamaran cruise from Cannes with optional lunch and champagne is sure to get you feeling like Queen Elizabeth.
Cannes Walking Tour-For those people who want to sight-see in addition to keeping fit there is no better opportunity for you to do those things than to join a Cannes walking tour which would give you an opportunity to make new friends, feel the glamour of the city, and learn about the stories and the artists who made Cannes famous. You can Experience the most significant architectural landmarks of la Croisette and be prepared to climb the steps of the Festival (no black tie needed, applause included).
Tour the islands and See Fireworks – There is nothing more beautiful than Cannes at night, and you can get the best experience by going on a panoramic tour of the Îles de Lérins, which includes sipping on cocktails among the islands, followed by a fireworks display in the Bay of Cannes.
Visit a local movie Theatre–In the city of cinema, you owe it to yourself to visit an actual movie theatre, and see a local french movie, even if you don't understand a word they are saying, It's the experience that counts.
Visit a museum–The French are known for their influence on artistry in the world, so what better place is there to experience art deco and history than Cannes. You can visit famous museums like Musee de la castre, Musee de le mer, or any other museum of your choice.
Visit an amusement park-Although there aren't alot of amusement parks in Cannes, you can take a little trip to one of the neighboring cities like Antibes, Nice or Frejus and bask in the glory of the incredible theme parks and resorts there such as Antibes land theme park or Parc Zoologique de Fréjus.
Private Boat Tour-Remember what I said about treating yourself like royalty in the city of glitz and glam, exactly, you have to stick to it, and this private motorboat tour will surely help you achieve that, You'd be able to visit the pristine islands and may even have a chance to swim and snorkel in crystal-clear waters.
Shop, Shop, Shop-Do I need to say more? But what good would it do if you ended your stay in the luxury city without a shopping spree–Absolutely no good!
Visit a casino/nightclub–Nightlife is definitely not the biggest priority in Cannes but there are endless amazing Casinos to choose from, e.g. Casino Barriere le Croisette, Casino de la pointe croissette etc, and there you can play various casino games like poker, blackjack, or if you don't fancy that, you can hit the clubs and shake your boots off.
Frequently asked questions about Cannes
Is Cannes really in France?
Yes, Cannes is in France, It is one of the cities located in the French Riviera (or Côte d'Azur) which is the Mediterranean coast of southeastern France.
Can I have my wedding in Cannes?
Certainly, but then when it comes to any city in France, you have to go through either of these two routes: 1. In order to have a legal wedding, one or both partners need to have lived in France for a period of 40 days, and has to assemble a dossier of certificates and document because it is only a civil marriage officiated by a mayor or deputy mayor that constitutes a legal union in France. However you can avoid this, and go through the other route which is : 2. Getting legally married in your home country and then having a religious or symbolic ceremony in Cannes.
Where can I party in Cannes?
Cannes isn't exactly known for a vast nightlife activities, but there are still several clubs and discos to visit during your vacation and make the best of your experience. There is the Morrisons Irish Pub, The Bar Amiral, etc.
Can I attend the Cannes Film Festival although I am not famous?
Yes you can, but it is very difficult to get tickets, The tickets are majorly reserved for invited guests from the industry and people from the press. Although It is possible to catch movies outside the Palais, usually at smaller venues.
If I get a ticket to attend Cannes Film Festival, What do I wear if I'm not famous
Well first, I must applaud the fact that you got a ticket, cause it is incredibly difficult, but then the first rule is to remember that you are attending a formal event, so definitely dress formally (Preferably dresses for women, and Suits for men) The second rule is to remember that hot, famous people will be there, so of course you can't dress in a way that'd ruin your chances of sneaking in a photo with one of them.
Do I need to be able to speak French to visit Cannes?
Of course not, I mean, it will be nice to learn a little bit of the language, such as pleasantries and greetings, cause this will totally make a difference in your stay cause people will be so much warmer to you.
Do I need a visa to study in Cannes?
Students from the EU/EEA countries do not need a visa to study in Paris or France at large, but students from elsewhere will need to apply for an extended stay visa with residency permit (VLSTS) either via the CEF process or from their nearest french embassy.
P.S. If you'd like to know the exact steps to take to apply to a university in Cannes, Read my last post on Paris, 'cause the same rules apply. https://misspresident.home.blog/2019/08/09/a-guide-to-paris-my-top-three-dream-travel-destinations-pt-1/
Cannes Fashion
Basically, in my post about Paris, I dedicated the fashion segment to writing about my five favorite Parisian luxury fashion brands such as Christian Dior, Chanel, Louis Vuitton etc. but in Cannes, there aren't a lot of famous designers that originated from there, although lots of them have stores there, such as: Tommy Hilfiger, Balenciaga etc.
So, instead of highlighting my favorite designers, I'd be chronicling my top five favourite Cannes film festival looks of all time.
Oh shoot! My mind was blown back in 2016, and it's still blown till this day, this is my favorite, favorite dress on my favorite, favorite person (YIKES!).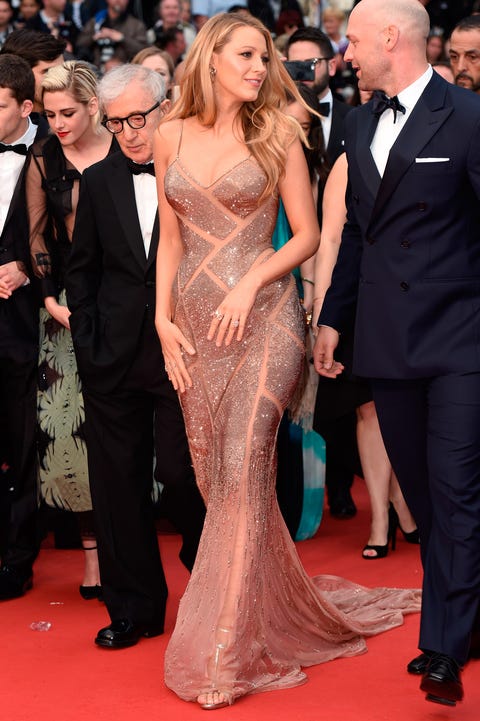 Well, I couldn't choose between the both Atelier Versace looks so there you have it, I'm definitely not the only one that thinks Blake Lively is probably the most elegant woman in the world in this era, and I wish I was there to throw feathers at her feet.
Well, we can all say hello to the Queen of the world: Priyanka Chopra Jonas!
Aishwarya Rai kills it EVERY SINGLE TIME!!!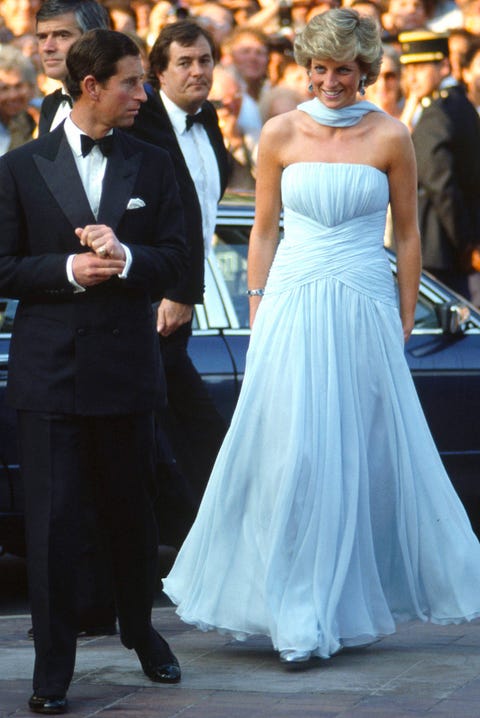 One word: ICONIC!!!
Top-Rated Luxury Hotels in Cannes
Of course Cannes reeks of glitz, glamour, power, luxury and all the finer things in life, what better way is there to celebrate that than spending your vacation within the walls of a classy, elegant, luxury hotel room. These are the top-rated luxury hotels in Cannes to ensure you live your best life on your next Cannes vacation:
Grand Hyatt Cannes Hotel Martinez
Situated on the Boulevard de la Croisette and overlooking the Bay of Cannes, the Grand Hyatt Cannes Hotel Martinez is a long-term favourite for celebrities that flock into the city for the annual Cannes Film Festival. Bruce Willis, Jake Gylenhaal, Eva Longoria are some of the celebrities who have stayed at the luxurious palace in recent times. The hotel also boasts one of the largest private beaches in Cannes. The price starts at around 345 euros and ranges up to 2000 euros per night.
P.S. The luxury penthouse at the Grand Hyatt costs about 35,000 euros for a stay.
Hotel du Cap Eden Roc
Cap Eden Roc has a reputation as one of the best hotels to visit by superyacht and offers stunning views, exquisite gardens, a private coastline and an infinity pool. The ultimate hangout is its champagne lounge on the roof of the iconic art deco pavilion, which is more than 100 years old. It's guest book features a string of A-list celebrities including Clint Eastwood, Sharon Stone, Jennifer Lopez, Colin Firth and Johnny Depp. The price of this hotel starts at around 680 euros per night.

Intercontinental Carlton Cannes
The Intercontinental Carlton Cannes is a hub of activity during the Cannes Film Festival. The hotel, which has lasted for over a century is located on the Boulevard de La Croisette and overlooks the Bay of Cannes. It has its own exclusive beach restaurant and pier which can offer a selection of water sports. With a rich history of entertaining celebrity guests, the hotel was also famously the location for Grace Kelly's first date with Prince Rainier during the 1955 Film Festival. There is still a Grace Kelly suite at the hotel. The price of this hotel ranges from 500 to 5500 euros per night depending on your room preference.
P.S. Elizabeth Taylor brought all seven of her husbands here, and it remains the hot spot that says, "Yes, you've arrived."
JW Marriott Cannes
This hotel is a venue for a great many glamorous poolside parties. The outdoor pool also comes with a poolside bar which is open all day, and as such you can very well stay in all day if you so choose. As far as food is concerned, the hotel has an in-house restaurant and an in-house coffee shop, which is a great place to meet and interact with other hotel guests. This five star hotel offers great amenities like a spa, a casino, a conference hall, luxury rooms with a great view. The price starts from around 343 euros per night.
The Five Seas Hotel
The Five Seas Hotel is a luxury hotel with an outdoor pool and a lovely spa where you can spend the day in complete relaxation. In addition to that, they also feature coffee shops and lounge areas where you can interact with other guests. If you'd like to eat in the hotel itself, you can avail of one of any two restaurants, both of which are flawless. Some of the other amenities offered by this luxury hotel are conference halls for people on business trips and for hosting private events, a fitness center, and even a rooftop terrace. The price starts around 315 euros per night.
Radisson Blu 1835 Hotel & Thalasso
This hotel is a luxury hotel situated in what is commonly referred to as the "heart of historic Cannes". However, fret not because you're still very well connected to all the prime spots of Cannes. You can reach the "Palais des Festivals et des Congrès" within 5 minutes, on foot, and You're also equidistant to la Croisette, which, as we've established, is one of the prime tourist attractions in the city, with one of the best shopping streets close by. The price starts at around 239 euros per night.
Le Grand Hotel Cannes
This hotel is another well situated hotel, towering over the prime street of La Croisette, a few minutes away from the location of the Cannes Film Festival, and just across from Rue d'Antibes with all its charming boutique shops and stores. The price starts at around 272 euros per night.
Hotel Victoria Cannes
This luxury hotel is situated within the ground floor and the first floor of a series of holiday flats, and it's located in Roquebrune-Cap Martin. A narrow road connects you to the popular pebble beach. If you'd like to visit a few other cities during your stay, you can walk over to the Carnolès railway station, and be transported to either Monaco or Nice. The price starts at round 205 euros per night.
Hotel America Cannes
This luxury hotel is across from the Majestic hotel, and just a block away from la Croisette, and as such you can be at all the prime locations of the city in a few minutes by foot. It's completely central and connected to the life of the city, yet just removed from it enough so as to offer you some peace and quiet. The price starts at around 121 euros up to 500 euros.
Top-Rated Affordable Hotels in Cannes
We all cannot afford to pay millions of Euros on a Cannes vacation, so the best bet is to go for low-budget affordable hotels. These are the top-rated affordable hotels in Cannes:
Le Cavendish Hotel
Located at 11 Boulevard Carnot, 06400 Cannes, France. The price of this hotel is around 118 dollars per night.
Hotel De France, Cannes
Located at 85 Rue d'Antibes, 06400 Cannes, France. The price is around 70 dollars per night.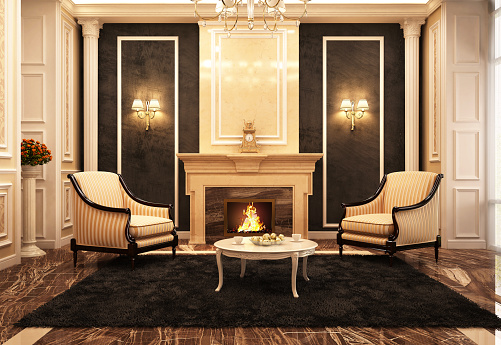 Clarion Suites Cannes Croissette
Located at the 12 Rue Latour-Maubourg, 06400 Cannes, France. The price is around 90 dollars per night.
Hotel Restaurant Campanile Cannes.
This hotel is located at 245 Avenue Francis Tonner, 06150 Cannes, France. The price is around 50 dollars per night.
Ibis Cannes Centre
Located at 8 Rue Marceau, 06400 Cannes, France. The price is around 64 dollars per night.
Hotel Amarante Cannes
This beautiful hotel is located at 78 Boulevard Carnot, 06400 Cannes, France. The price is around 49 dollars per night.
P.S. Ofcourse when it comes to Cannes, affordable doesn't mean low quality, so you can be rest assured that these budget hotels have all the great in-house and out-door amenities to meet your needs, such as: spas, reliable gym equipments, pools, game courts and they offer great services. Also, a lot of them are located close to public and private beaches, and even tourist venues like the Palais des Festivals.
Best Restaurants to Visit in Cannes
La Palme d'Or
Lasting for over 30 years and situated within the Hotel Martinez, La Palme d'Or holds two Michelin Stars and is considered to be one of the best restaurants in the world to visit by superyacht. Named after the film festival award, it always draws a host of celebrity diners. In the past Sharon Stone and Elton John have both enjoyed meals at the restaurant. This restaurant is located at 73 Boulevard de la Croisette
06400 Cannes, France.
Le Grain de Sel
This stylish modern French bistro with oak parquet floors and contemporary art on white walls offers affordable dining and an appealingly cosmopolitan menu that's a perfect expression of how people like to eat in Cannes. To wit, dishes like marinated salmon focaccia with herb cream; chicken gyoza; tuna with a panko crust, a shallot condiment, and Asian noodles; and chicken breast in morel sauce satisfy the demand for calorie-conscious cooking that's also full of flavor. Located at 25 Rue Hoche 06400 Cannes, France.
Le Baoli
The perfect destination for dinner and a dance is Le Bâoli, which was the location for The Sea Of Trees after-party during last year's Cannes Film Festival. A host of celebrities, including Naomi Watts, Sienna Miller and Camila Alves, attended. The club has been a long-time favourite with France's elite and features an indoor-outdoor environment normally with a hip-hop and electronica vibe. Located at Port Pierre Canto, Boulevard de la Croisette, 06400 Cannes, France.
Table 22 par Noel Mantel
At Table 22, chef Noël Mantel, serves delicious Provençal-inspired dishes like risotto with veal sauce and roasted rack of lamb, along with an assortment of small plates including fried zucchini flowers, potatoes sauteed with chorizo, and socca, a crepe made with chickpea flour. It is located at 22 Rue Saint-Antoine-Le-Suquet, Cannes
Provence-Alpes-Côte d'Azur 06400, France.
La Toque d'Or
Their menu draws inspiration from the traditional Provençal kitchen and local produce, but takes it in a more modern, light, fresh direction. Examples of what to expect here include: red mullet with stuffed zucchini flowers, sea bass with artichokes prepared two ways, veal filet with vegetable-stuffed conchiglioni pasta, and a dramatic hollow chocolate sphere dessert with strawberries and vanilla cream. It is located at 11 Rue Louis Blanc, 06400 Cannes, France.
Le Bistrot Gourmand
Situated just steps from Cannes's lively Marché Forville, the city's covered food market, chef Guillaume Arragon's bistro has won a large following of local regulars for its market-driven seasonal menu. Try the fish soup, which is made with a locally landed catch of the day, or the succulent rack of Sisteron lamb with a black-olive crust. It is located at 10 rue du Dr Pierre Gazagnaire, Cannes Provence-Alpes-Côte d'Azur, France.
Boulangerie Jean Luc Pele
Owner Jean-Luc Pelé, trained as a pastry chef and chocolate maker, makes his bread with high-quality sustainable-agriculture flour from the Beauce region, between the Seine and Loire rivers in northern France. Whether you're looking for a pastry to have with a cup of tea in your hotel room, a baguette for a beach picnic, or a quiche for a light lunch (either to stay or to go), this bakery is the place.
Angel's Extras: Tetou restaurant was also one of the most iconic restaurants in Cannes. Celebrities like Angelina Jolie, Brad Pitt, Charlize Theron and Clint Eastwood are some of the stars that dined there but sadly the restaurant was closed early 2018 due to new French laws. (Can someone make a sad face!).

P.S. Cannes, just like Paris holds a special part of my heart, I have been an avid lover of the city and it's history for as long as I remember, and of course, it's the home of luxury, glitz and glamour, and it is also located in France which is my all-time favorite country.
Ideas for this post were gotten from: http://www.viator.com http://www.tripadvisor.com http://www.planetware.com http://www.seecannes.org http://www.tripsavvy.com http://www.eater.com
The last part of this dream destination series is on Venice. So, Make sure you check it out here! https://misspresident.home.blog/2019/08/23/a-guide-to-venice-my-top-three-dream-travel-destinations-pt-3/, You can also read the first post on Paris here, https://misspresident.home.blog/2019/08/09/a-guide-to-paris-my-top-three-dream-travel-destinations-pt-1/
XO, ANGEL JOANNE.
JOIN OUR COMMUNITY: LIKE, COMMENT AND FOLLOW THE BLOG.