We've all been there, or at least we'd all get there sometime-the dreaded week before going to college, it may be exciting for some, but for me, it was literally hell on earth, I was a ball of anxiety, nervousness, occasional sadness and little ol' persistent confusion, Honestly! If not for my father's persuasion, I really would have just kept postponing my resumption date, and maybe even till today-four years later, I may still not have been courageous enough to actually pack my bags and head to college.
Amidst all my confusions, was the never-ending one of what I should take as a freshman, I lived in a college dorm through my four years, so I definitely didn't need a car to transport myself back and forth, so in actuality now that I look back on those times, I was basically having so much anxiety over tissue paper and stationaries.
In order to make the job so much easier for you stars, I'm going to list down all the essential items, you are going to most definitely need in your first year (or semester) at university-No frivolities included!
Of course this list entails provisions for both male, female and other genders.
Surprise: Guess what Starss, I have a huge surprise for you all, You can make your trip to College, whether locally or internationally in two seconds. With TravelStart, you can make that college trip right now, and live to enjoy it. Click the link down below, and get the most exciting travel packages your mind could ever envision. Your college life starts now:
https://www.travelstart.com.ng/?affId=216998&utm_source=affiliate&utm_medium=216998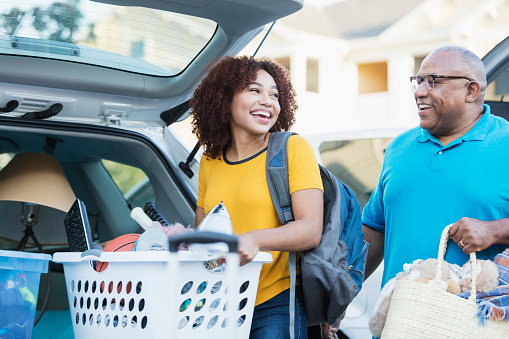 LAUNDRY, CLOTHES, AND MORE CLOTHES
Honestly, you can't go wrong with clothing, please bring enough, you could even go back after the first semester and bring more, just ensure you're not the girl wearing the same exact striped shirt every Tuesday.
Weather-appropriate clothing
Jeans
Jackets (Bomber Jackets, Denim Jackets, Leather Jackets)
Underwear (Like you could forget)
Shirts and Tops (Honestly! these need to be in different colors and styles, cause you can definitely repeat a lower body garment several times a week, but it won't go that easy with a top/shirt, except of course you want to be known for that)
Socks
Shorts
Tracksuits/Sportswear (Of course you want to keep fit in college)
Sweatshirts, Sweatpants
Nightdresses/pyjamas
Sun dresses (For those rare moments you can spare to get away from course works and assignments in order to hit the beach)
Party dresses and shirts
Sunglasses
Laundry Basket and other cleaning agents (Soaps, Detergents, Bleach etc)
Handbags, Tote bags
Lint Rollers
Jewellery
Sneakers/Boots
Sandals
Hangers
Hat/Cap
Swimsuits
Shoe racks/storage
Belts
Watch (Don't splurge on Cartier please)
Iron
Formal wear
Suitcase
ROOM/HOME DECOR
Wallpaper (Maybe one that gives a little insight into the kind of person you are, I used to have a wallpaper'over my bed with the words 'LOVE IS LOVE' emblazoned on it, which showed people that I was a part of the movement even before they spoke to me) Of course if you can't get one of those, you could always get your favorite sports team or celebrity.
Desk Lamp
Rug/ Carpet
Personal photos (Tip: If the pictures are not framed to be hung on the walls and you don't have access to tape or glue at that time, you can tie a rope/string from one end to the other and peg the photos onto them–my friend did this and everyone thought she was a genius for a week)
Curtains (In a colour you like, please)
Clock
Wastebin
Bedside table
Desk Chair
Bean bag/pouf (only if extremely necessary)
STATIONERIES/ SCHOOL SUPPLIES
Pens, Pencils, Highlighters
Rulers
Erasers, Sharpeners
Book bag
Sticky notes
Calendar/Daily planners
Tape
Scissors
Paper
Notebooks
Jotters
Paper Clips
Calculator
BEDDINGS AND HYGIENE ESSENTIALS
Bedspreads
Comforter/Quilt
Duvet/Blanket
Decorative/Throw pillows
Sleeping pillows
Coverlets
Pillowcases
Paper towels
Wipes
Shower shoes
Slippers
Towels
Bathrobe (If necessary)
Antiseptic
Sanitary Kits
First Aid kit, and any other prescription medicines (Honestly! the health center will do better with one less student)
COSMETICS AND MAKEUP
Deodorant
Perfumes/ Body Sprays, Colognes
Soap Bag/Case
Shower gels/Bathing soaps
Shower caps
Body Scrubs, Body washes
Skincare items (Creams, Oils, Gels)
Shampoo and Conditioner
Hair tools (Combs, Brushes)
Nail Clippers, Polishes
Hair Straightener, Hair Curler, Hair Dryer
Toothbrush, Toothpaste
Mouthwash/ Mouth sprays (College is a kissing booth, tbh)
Cotton Swabs/Buds
Mirror
Air Freshener
Of course, for the avid makeup lovers, never forget that makeup kit with all your favorite beauty brands and products
ELECTRICAL APPLIANCES
Fan (If permitted by your school)
Extension Cords
Phones, Tablets
Chargers
Laptops, Computers
TV
DVD Player
Stereo/Speaker set
Game Equipments
NO, I DID NOT FORGET FOOD, GIRL!
Water Bottle
Coffee mug
Pots and Pans
Liquid Dish Soaps
Forks and Spoons
Napkins
Plastic/Disposable cups
Mini Refrigerator
Microwave, Toaster, Coffee maker, Hot plate (If permitted)
Sodas and Drinks
Biscuits
Cereals
Juice boxes
Chocolate Spreads
Peanut butter & jelly
Honey, Butter or Jam
Hotdogs, Sardines
Chips, Popcorn
Granola and Chocolate Bars
Food Spices, Flavourings and Condiments
Any snack you like, Honestly! (Eat healthy)
EXTRA ITEMS
Debit Cards
Credit Cards
Student ID Card
Social Security Card (In countries necessary)
Umbrella
Drivers' License (If you have one)
All documents entailing important academic information
All documents issued to you by the university you're about to attend
With this, you can get your head into college, and get ready for busy mornings, tedious course works, lots of parties, and amazing, amazing memories.
XO, ANGEL JOANNE
JOIN OUR COMMUNITY: LIKE, COMMENT AND FOLLOW THE BLOG.