In the new era of fast fashion and social media culture, there is a seething need by teenagers and young adults to actively look the same and basically adopt the common fashion trends displayed in the media, and that number gets smaller in the sphere of Hollywood. Once a fashion show or red carpet event is over, particular style trends are set, the brands curate premium fashion staples of said style, which are then worn by models to be captured by the paparazzi, then fast fashion brands create knock-off versions which are gobbled up by instagram models and the social media culture, and after a while, this happens again. It's an endless cycle.
Fashion icons (Fashion leaders) are the risk-takers within the fashion and beauty industry, They are the influential trend-setters that introduce new styles which spread throughout fashion culture and become core parts of fashion for the era, They may initiate a new style trend for others to follow, or they could be the central image behind which a particular trend revolves around. When you think about these icons your thoughts immediately go to Princess Diana, Audrey Hepburn, Jackie Kennedy etc, those women influenced fashion trends that outlived them all, and although some notable artistes and celebrities of this modern era such as Rihanna, Zendaya and Harry Styles, put in their best to influence fashion culture and set trends for years to come, one commonly notable, but yet underestimated fashion icon is Bella Hadid.
LIFE IN LOOKS
We'd break down lots of Bella's style and outfit choices which have established her as the ultimate fashion icon of the decade and our generation at large.
She is the Ultimate Fashion muse.
A muse is a source of inspiration for a creative artist, and Virgil Abloh approves that Bella Hadid is the ultimate fashion muse of this generation, as she is able to embody a vision, and bring to life creative imagination, literally by using her body as art to display the most iconic fashion trends of the modern era.
She is almost every designer's favorite model
Virgil Abloh believes Bella redefined what a modern-day supermodel is, Alexander Wang says she is the body of our generation, Alexandre Vauthier pays an ode to her sensuality, basically every designer has involved Bella in either a fashion show or a campaign, because she radiates the femininity and inner goddess power created by women like Marilyn Monroe and Elizabeth Taylor in the past. She has the body of a starlet, but yet her ability to use this alongside her mind is what draws everyone to her core style.
She made athleisure a daily fashion staple.
It can be said that a lot of the models of the modern era have turned street wear into lounge, home and even work wear, from Hailey Bieber to Kendall Jenner, but Bella was able to curate a personal style of mixing and matching pieces from athletic lines and casual chic trends to create a style that is pretty ideal for her and will ultimately influence fashion trends for young women for years to come. She always incorporates street style with high fashion, or athletic wear with casual style, expressing the full vision of the new athleisure trend, which guarantees that she always looks runway ready on the high street.
She dresses according to season.
Kim Kardashian is known to adorn the skimpiest clothes during winter, and the most full-fitting during summer, and no one knows how she manages to do that, but props to her cause she still always looks good, just very out-of-season. Bella, on the other hand basks in the trends of each season and dresses in a way that particularly depicts the idea of said season or time. In Fall/Winter, she is walking every fashion show and adorning every collection, and in Spring/Summer, she is abiding by the rules of the time being.
She wears her outfits, Her outfits don't wear her.
When you think of people that fully personify their outfits and wear it to longevity, we can talk about Rihanna, Lady Gaga, Diana Ross etc. Bella is also known to bask completely in the glory of her outfits and wear what is needed and not what is expected of her. She is always able to look good in whatever outfit is designed for her, strutting runways and high streets in confidence, while establishing herself once more as the Ultimate fashion and style muse.
She incorporates masculine and feminine styles well.
When you think of androgynous fashion, you think Cara Delevigne, Rubi Rose etc, and Bella is also always able to do that in a way that is not very in your face, but yet incorporates this style blend well, She infuses masculine style with her femininity in a way that is so subtle, its almost easy to pass over. She rocks power suits when necessary with leg-baring cut-outs and other feminine designs, thereby establishing the right match-up between both styles.
She is the Queen of Cannes
When you think of Fashion, you think of Cannes International Film Festival, and when you think of Cannes, you think of BELLA HADID. Her style evolution came into fruition with the Red-high slit, thigh-baring dress that turned everyone's heads during Cannes Festival 2016, and from then on, people started to watch her fashion choices closely hoping to see some fashion statement to set future trends, and indeed she continued to give everyone something to talk about. Year after year, Bella Hadid has been able to surpass expectations, and top previous years, by bringing cutting-edge fashion trends to the red carpet, and leaving every fashion critic blissfully amazed. If there is a Queen Of Cannes, Bella Hadid has the crown.
She is always runway ready.
Fashion involves everything–from Style, to clothing choices to the confidence in rocking the pieces to actually walking the runway, and Bella has been able to create her own style imagination by ensuring she always looks runway ready, representing different fashion themes by head-to-toe glamour fashion choices.
She isn't afraid to match brands.
Bella matches patterns, sizes and most daringly brands, she isn't afraid to rock a Christian Dior shirt with an Armani denim trouser, Miu Miu Glasses and a Hermes bag. She is the ultimate style evoker, as she has made us all realize that we can match whatever pattern, style or brand we so desire, as long as, we create a uniform piece, that starts fashion conversations.
She is the Ideal Brand Ambassador.
The face that launched a thousand brands–that's Bella Hadid, which is why multiple labels are able to create their designs and imaginations around her, encircle their vision around her brand, and interpret her image as the face of their organizations. Tag Hueuer, Moschino, Fendi, Versace, Alexander Wang, Dior, Bulgari and DKNY, are some of the brands that have attached themselves to her, and that has only yielded positive results for both the organizations and her alike. She is the ultimate fashion ambassador to influence fashion for years to come.
She can do anything with Denim
Denim is indeed a fashion favorite, but when we talk about Denim on the go, you think of Bella Hadid, she is always able to incorporate Denim in any outfit choice, and make it stand out. She is usually clad in denims of different styles and shapes, daring to rock styles that are unpopular or have never been seen before.
She made thigh-high slits a fashion staple.
Ofcourse, slits, sheer fabrics and cut-outs have always existed, but Bella dared to take it to the maximum effect when she rocked a red barely-there satin dress to the Cannes Film Festival 2016, the gown was barely being held together, but yet Bella gave her best strut amidst the chaos of the dress. She dared the fashion world, with a slit that high, that nearly exposed her, but yet she did it in grand style, with enviable hard-rocking poses. Bella overtook the thigh-high slit trend on the red carpet with that look, and began to reign supreme as the queen of the thigh-high slit trend.
She always has the best accessories
Whether its a petit purse, a mini sunglasses or a diamante choker, Bella can layer pieces like no one else could. She always know the right match and how best to layer her jewellry. A choker on a floor-lenth dress, or a cuban link on a denim match-up, Bella allows her accessories speak for her and always seems to have the best pieces to suit her outfits.
She Slays the Red Carpet and the High Street.
Bella Hadid is the ultimate fashion icon without a doubt, She brings the glam and the fun, she is always ready to let go of the prim and proper straight-cut glam look for an out-of-the-world street style, She can go from structured to wild with an outfit in seconds, She knows how to perfectly balance the glitz and glamour, with the bold and dauntless, which is a skill not many possess.
She created cut-outs where they never existed.
Bella Hadid is the queen of many things, and that includes cut-outs. She is the greatest influencer of the cut-out fashion trend, rocking pieces with cut-outs in places we've never seen them, on necklines, on thighs, at the small of the back, she has rocked cut-out styles at different areas we wouldn't ordinarily see them, thereby establishing herself as the perfect influencer for this rocking trend.
She dares to be different….always
When you think of daring fashion statements, you immediately think Rihanna, Madonna, Harry Styles etc. But Bella Hadid happens to also be one of the most daring fashion favorites of the modern era, she is always ready to dare the next trend with incredible valor, in order to create another. She pushes boundaries and steps outside the box every time, and doesn't listen or believe in following the stereotypical rules of the fashion world, and she always makes daring fashion statements that topple the envelopes set for her.
She has never had a fashion fail
Red carpets, Movie Premieres, Fashion shows, High-street– Celebrities are expected to attend every event in the most cutting-edge looks, and sometimes their desire to be adventurous results in failure, There aren't many celebrities that can openly say they've never had a fashion fail, but Bella Hadid is one of those, she always manages to adopt every look perfectly and never fails in any fashion piece. She is the ultimate style icon at every moment, and is always able to wear a designers vision without fashion failure.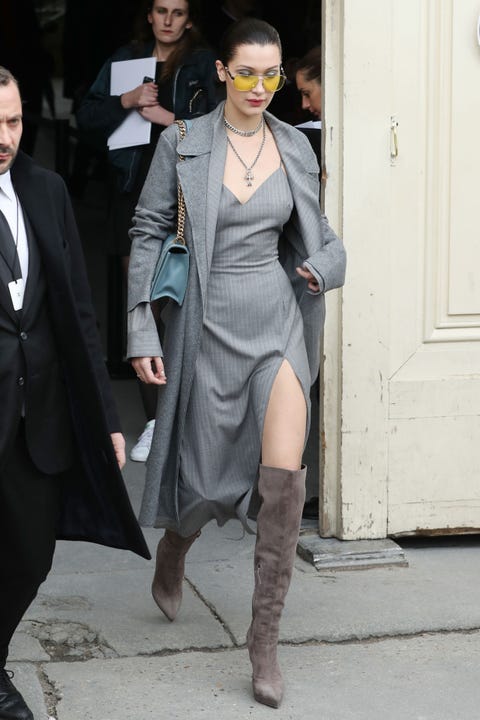 Her Met Gala Looks transcend time
Bella and the Met Gala is a relationship I've always tried to understand. She never tries too hard to be the center of attention, but yet she's still always on theme, and gets everyone's eyes on her. From the catsuit at The 2016 met gala, to the devil in a dress choice at Heavenly Bodies and the Catholic Imagination, to the cut-out dream dress at the 2019 Met, She always finds a way to create outfits that transcend time and will be remembered for long after they've been worn.
She made headscarves a fashion essential again
Rihanna brought back trench coats, Doja cat curated her brand around the e-girl style trend, and Bella made headscarves a fashion essential again, She had a whole phase of wearing headscarves on every walkway, drive-through and street. She personified the 2000's trends and was able to create a pattern for herself, and this gave birth to the headscarves trend, which she fully made her own.
She dresses according to occassion
Bella Hadid knows the difference between a wild day outfit, a night-out outfit and a formal work attire, She dresses according to occasion and never fails to hit the mark. Her style is very innovative and has kept us glued to our screens for years. She is able to innovate new trends every time and create a new style innovation at any given opportunity.
She includes her passions and causes in her fashion pieces.
Bella Hadid is half-palestinian, and she has never been shy to hone her roots, and imbibe it's culture and taste into her fashion choices, When the palestinian protests were ongoing in America, She campaigned with them and dressed in a way that fullly displayed her roots, but still paid an ode to American Fashion, When she is on the road matching for Pride, she is dressed in rainbow colors that still look like haute couture. She has never been afraid to own her roots, and represent her passions, causes and culture in her fashion choices.
Ideas for this post were gotten from: www.thelovemagazine.co.uk www.vogue.com www.teenvogue.com www.insider.com www.harpersbazaar.com
Angel's Two-Cents: Who is your style icon of the decade: Rihanna, Zendaya or Bella Hadid?
Leave your comments down below and interact with our community.
XO, ANGEL JOANNE.
JOIN OUR COMMUNITY: LIKE, COMMENT AND FOLLOW THE BLOG.