This is the third and last part of the three-part series on my top three dream travel destinations, (The week flew by again!), and of course, this week, I'm going to be talking about the admirable and awe-inspiring Venice, detailing the best places to visit there, the best restaurants to eat at, the best hotels to stay in, the best activities to do, the frequently asked questions about the city, and lots more.
To read my first post on PARIS, Make sure you click: https://misspresident.home.blog/2019/08/09/a-guide-to-paris-my-top-three-dream-travel-destinations-pt-1/, and you should also definitely read my next post on Cannes, here: https://misspresident.home.blog/2019/08/16/a-guide-to-cannes-my-top-three-dream-travel-destinations-pt-2/
VENICE
The Floating City "Venice- "City of Water, Masks, Bridges, Canals, and definitely Art, is a city of immense beauty and historical significance, it is also unique and not like any other city in Italy, and of course, it is one of my dream destinations. (Third time's a charm). I'm proud again to say that just as I have imagined my Parisian fairytale wedding to some golden-haired french model, while keeping the blue-eyed Cannes actor in mind, I have also spoken my honeymoon to the Italian dancer and Chef into existence (I love these dreams!), well I can already vividly see us walking to one of the great art galleries, while giggling about Life is Beautiful and basking in the glorious sun, after eating Cassatta or Tartufo (Yikes!). I know am not the only one that has these sort of fantasies about the beautiful Venice, cause it remains one of the most visited tourist destinations in the world, and of course a place after my own heart.
10 Must-see places to visit in Venice.
Well, as we all should know, everywhere in Venice deserves a visit, it is one of the most beautiful, rich, and luxurious cities in the world, and it sits in a class of it's own, but of course for the purpose of much-needed clarity, I'm going to be narrowing down the 10-must see places to visit in Venice.
St. Mark's Basilica
The St. Mark's Basilica is easily the most renowned and famous building in Venice, and it remains one of the most important religious buildings in Northern Italy. Every aspect of this church is fantastic – From the ornate detail, sculptures and artwork of the front facade, to the beautifully painted frescos and Byzantine works of art on the inside of the domed ceiling. Located in the Piazza San Marco, this basilica is easily accessible from the grand canal and is one of the best-known surviving examples of Italian Byzantine architecture.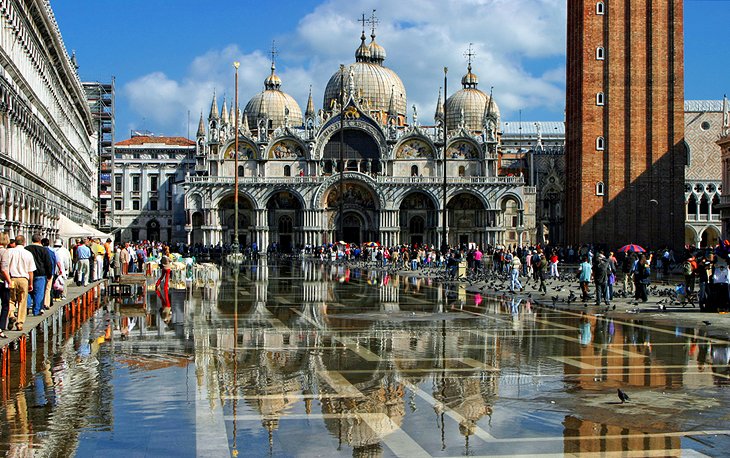 Saint Mark's Basilica is open Mondays through Saturdays, 9:30 a.m. until 5:00 p.m. and Sundays until 4:30 p.m. (5 p.m. in the summer)
Canale Grande
The Grand Canal is more like a river and it passes from one side of Venice to the other and snakes through the centre in a large S bend shape. Over 170 buildings dating from as early as the 13th century line the banks of the canal and it has served as an important waterway in the city for hundreds of years. Walking along the sections of the canal, admiring the buildings that line it, and watching the busy water traffic of Venice is one of the most beautiful sights you are sure to ever see.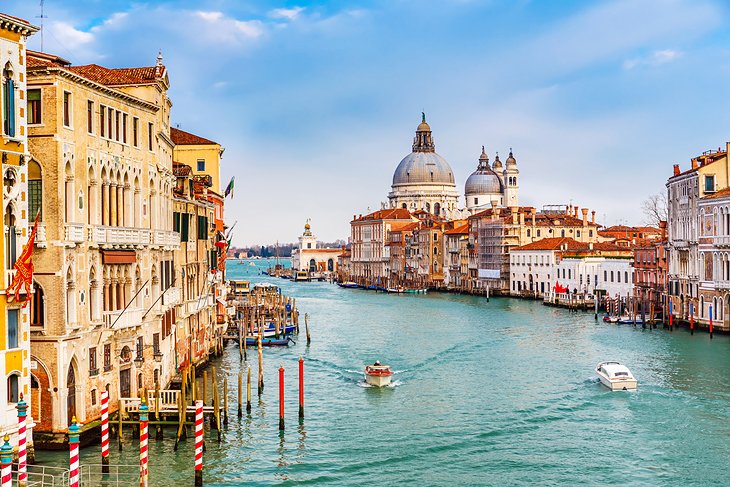 Canale Grande is always open.
Gallerie dell' Accademia
The Academic Gallery is Located opposite the Ponte dell' Accademia on the Grande Canal, this museum hosts a fine collection of pre-19th century art and features works by artists such as Bellini, Canaletto and Titian. For those who love Renaissance art and iconic masterpieces, this gallery delivers. It's best known piece is the Vitruvian Man by Da Vinci which shows the ideal proportions of man. Other notable works include the Resurrection by Tintoretto, Virgin and the Child by Titian, and the Battle of Lepanto by Veronese.
Gallerie dell'Accademia opens daily at 8:15am–2pm
Surprise: Guess what Starss, I have a huge surprise for you all, You can make your trip to Venice, Paris and any of your favourite dream destinations in two seconds. With TravelStart, you can make that trip right now, and live to enjoy it. Click the link down below, and get the most exciting travel packages your mind could ever envision. Your vacation starts right now:
https://www.travelstart.com.ng/?affId=216998&utm_source=affiliate&utm_medium=216998
Venice Lido
If you are looking for a spot of relaxation and to get away from the bulk of the tourists, the Lido is the place to go. This separate island creates a barrier between Venice and the Adriatic Sea and features a long stretch of beautiful beach to enjoy. It serves as Home to approximately 20,000 inhabitants, the Lido also has a host of residential areas, shops, restaurants and hotels.
Various activities on the Lido are open at different times, daily, like bicycling, golfing and helicopter tours, although private beach clubs limit access from the Lido's waterfront boulevards, the sand along the water is open to everyone.
St. Mark's Square
Whilst St. Mark's Basilica is the most famous building in Venice, St Mark's Square (Piazza San Marco) is the most famous piazza. (meaning square), and has always been the center of power and wealth of the Venetian Republic. It is located on the grand canal (everything great is honestly located here), opposite the island of San Giorgio Maggiore, the square holds huge importance in Venice and is a truly spectacular place to visit. It is loved as Venice's living room, the place everybody gathers, strolls, drinks coffee, stops to chat, meets friends and tour guides, or just passes through on the way to work or play. Furthermore, several important buildings are located on the square including St Mark's Campanile, St Mark's Basilica, Doge's Palace and Torre dell'Orologio. This square really is the perfect place to start your tour of Venice and tick off some of its most impressive sights.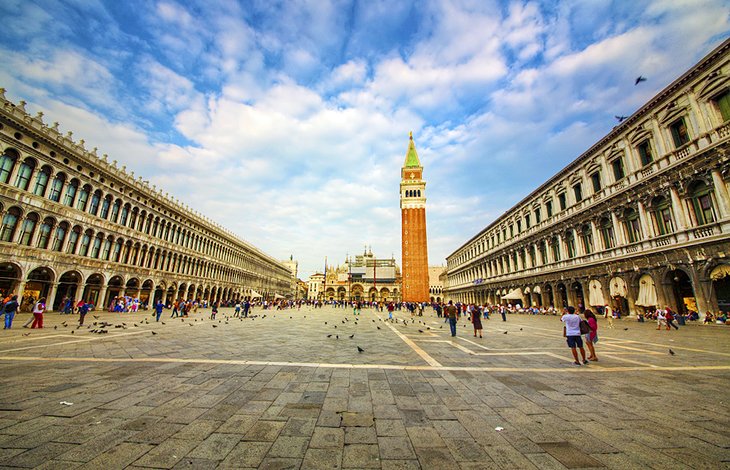 St.Mark's square is always open.
Doges Palace
This is one of the most renowned buildings in Venice aside from the Basilica and Campanile, Doges Palace also sits in St. Mark's Square but looks out onto the grand canal. This ornate palace is simply stunning and its front facade features a beautiful arched design made of white stone with a series of diamond patterns on the walls. Inside, the palace is just as impressive and there is a series of immensely decorated rooms that all have original details, furniture and artwork. Tours of the palace are available and it is advised to spend some time viewing both the exterior and interior in detail to truly capture a piece of the history of Venice. (If you ever wanted to have a slice of heaven, this is the place to do that!).
Doges Palace opens daily from 8:30am–9pm
Bridge of Sighs
There is nothing I love more than the name, "Bridge of Sighs", It really gives me the best kind of chills. Although it is only a small bridge in the relative scheme of Venice, the Bridge of Sighs is one of the most viewed structures in the city and is an important historic landmark. It is an absolute must to see this beautiful sight, You can take private tours and walk across the bridge of sighs to the dark cells of the Prigioni-the prisons from which Casanova made his famous escape. Legend has it, that as criminals were taken from the Palace over the bridge, they would cast once last glimpse at Venice and sigh; considering their forthcoming punishment and imprisonment.
The Bridge of Sighs is open daily from 8:30 AM – 7:00 PM
San Marco Campanile
As the second most important building and tallest structure in Venice, , The campanile is a towering building that stands at a colossal 98.6m high. The building that stands now, is actually a reconstruction as the original collapsed in 1902. Originally created in the 9th century, the campanile was used as a watch tower. Throughout the years, the tower has been damaged by fire, earthquakes and even lightening (Sad much!). Made of a simple red-brick design, the main shaft is quite simple, but the bell housing and pinnacle feature a myriad of arches and stonework, and the top features a golden statue of the Angel Gabriel. (That is literally calling out to me!) You can admire the tower from the Piazza di San Marco, but also take the elevator up to the top for possibly the best panoramic views of Venice.
San Marco Campanile is open daily from 9:45am–7pm
San Giorgio Maggiore
This is one of the smaller separate islands that is not connected to the main canals of Venice. San Giorgio Maggiore sits a short distance from the Venice Basin and the Grande Canal and can be reached by Vaporetto or private water taxi. The awe-inspiring San Giorgio Monastery, the Church of San Giorgio Maggiore and the large campanile that mirrors the one standing in St. Mark's Square, are all located on the marvellous island. You can Walk through the small harbour and see the various boats moored, visit the fantastic church and monastery, and climb the campanile for amazing views back across to the main city of Venice.
The Church of San Giorgio Maggiore is open from May to September 9:30 to 18:30; Sunday 8:30 to 11:00, 14:30 to 18:30. From October to April 9:30-closing at dusk; Sunday 8:30 to 11:00, 14:30-closing at dusk.
Teatro la Fenice
Teatro la Fenice-The Phoenix Theatre is a beautiful opera house in Venice, Italy. It is one of "the most famous and renowned landmarks in the history of Italian theatre", and in the history of opera as a whole. Especially in the 19th century, La Fenice became the site of many famous operatic premieres at which the works of several of the four major bel canto era composers- Rossini, Bellini, Donizetti, Verdi were performed. Its name reflects its role in permitting an opera company to "rise from the ashes" despite losing the use of three theatres to fire, eventually the building was rebuilt and re-opened in November 2004. In order to celebrate this event the tradition of the Venice New Year's Concert started.
Teatro la Fenice is open daily from 9:30am–11pm.
10 Fun Activities To Do In Venice.
The point of any vacation is to make unforgettable memories and experiences, and what better way is there to do that than to go out and have the time of your life. In the floating city, you can't afford to dim down yourself, you certainly need to go out and shine. These activities will certainly help you do that:
Visit an art gallery/museum– Venice is famously known as the city of art, and there is no better way to enjoy the city than to try and visit as many museums as possible, you can see all the great historical artworks that are home to Venice, such as Leonardo Davinci's Vitruvian Man, Virgin and the Child by Titian, and the Battle of Lepanto by Veronese.
Ride across the lagoon to Murano, Burano and Torcello- It's Venice, the floating city, and transporting yourself from place to place through water is a given, a ride to Murano, the home of Venice's fabled glass workers is a must-do activity.
Ride a Vaporetto through the grand canal- The Vaporetto is the main form of transport in Venice – Yes you can catch a train into the main station, and yes you can walk on foot through the streets, but to truly experience Venice, you must experience it from the water! So, a ride through the grand canal in a Venetian public waterbus is the best way to have the time of your life.
Visit a local movie Theatre- Italian comedy movies are honestly the highlight of my life, (I've seen a few!), and so you owe it to yourself to visit an actual movie theatre, and see a local Italian movie, even if you don't understand a word they are saying, It's the experience that counts. .
Eat while Standing–This may sound strange but that is honestly one of the best ways to enjoy Venetian food, Venice is the biggest pedestrian city in the world so basically, almost everyone is on foot, One of the best ways to have a great time is to walk into one of the bars and just have a quick dessert while standing, right before hopping on to the next hot spot.
Shop, Shop, and Shop again–Italy, and inevitably Venice is a luxury city just like Paris, and of course you owe it to your amazing self to visit all the luxurious stores, artisan shops and cafes and buy some sweet designer items in addition to budget goods, and be sure to leave Venice like the fashionista you are.
Stroll with some gelato–Since we just spoke of finger food and the way it is eaten in Venice is usually standing!, I believe it is the right moment to mention one more amazing thing to do in Venice: You should totally go on a stroll while having a gelato!
Night-time living- Yes, yes, and again, yes! Going out at night in Venice, even late at night, is safe and one of the top things to do in Venice to appreciate the city even more. If Venice in daytime has an incredible beauty that shines as bright as the sun, at night time, Venice is as quiet, poetic and evocative as the moon. You could go to the only nightclub in the city, a bar or any other great night spot. (I'm so up for this!)
Visit a music concert-There are various sizzling and amazing Italian artistes and bands, and they always organize local concerts in cities such as Venice, so you have to visit one of the great concerts there and appreciate the talent of the locals.
Walk off the beaten path– Venice is extremely safe, so If there is one thing to do in Venice to have a fantastic time, it is ditching your map, noticing street signs and completely ignoring them, and just do everything you can to lose yourself and walk off the beaten path instead! (You should probably do this with companions).
FREQUENTLY ASKED QUESTIONS ABOUT VENICE.
Can I have my wedding in Venice?
Yes of course, Venice is one of the most desired wedding and honeymoon destinations in the world, All-year round, it is decorated with water, lights, luxury, masks and several other beautiful things, and certainly, there is nothing more you would want your wedding to have, than those amazing bits. (Kim Kardashian and Kanye West famously had a beautiful wedding in Venice, and you can take the pictures from that as enough proof of the city's splendor).
Do I need to be able to speak Italian to visit Venice?
Of course not, I mean it will be nice to learn a little bit of the language, such as pleasantries and greetings, and this will totally make a difference in your stay cause people will be so much warmer to you.
When does Venice close?
This question is quite odd, but it comes up a lot for some reason, people think Venice is an open-air museum, Venice is 100% a city located in Italy, It is the capital of northern Italy's Veneto region and has no opening or closing times. There are working hours for offices, shops, and activities, but when they close, life goes on in the city.
Are there schools/universities/hospitals/police/etc. in Venice?
Yes, Venice has everything you'd expect to find in a medium-sized city elsewhere. What might surprise you is the presence of only one nightclub (which is very small and very different from typical clubs) and there is also the fact that some services are performed with the use of boats rather than cars.
Do I need a visa to study in Venice?
There are three types of visas that can be used in Venice, and they are:
1. Short-stay visas for tourism (valid for eight to 90 days) – this is only necessary for non-EU citizens.
2. Visas for study/research – this is only necessary for non-EU citizens.
3. Work visas for non-EU citizens.
Where can I party in Venice?
Although Venice is extremely safe at night, the one thing it isn't known for is big night parties, but you could still always party at Picollo Mondo Disco Club, the only disco club in Venice or the Venice Jazz club, which is the only jazz club in Venice.
Is Venice an expensive city to live in?
Well, Venice isn't that expensive (at least not as expensive as Paris), but it still has it's own costly monetary requirements, especially if you stay on the main island. Although, the majority of transportation in the city is done on foot or public waterbuses so you have one less thing to worry about.
Venice Fashion
Basically, in my post about Paris, I dedicated the fashion segment to writing about my five favorite Parisian luxury fashion brands such as Christian Dior, Chanel, Louis Vuitton etc. while for Cannes, there aren't a lot of famous designers that originated from there, so instead I wrote and displayed my top-five looks from the Cannes Film Festival. (You need to check it, https://misspresident.home.blog/2019/08/16/a-guide-to-cannes-my-top-three-dream-travel-destinations-pt-2/.
So, although some of my favorite designers like Giorgo Armani, Gianni Versace and Miuccia Prada originated from Italy, they unfortunately didn't come from Venice, and this has to be all Venice, so instead I'd be showing my favorite looks from the Venice international film festival, which is the oldest film festival in the world.
This is probably the best time for me to say that yes I'm a member of the Little monsters club and of course my Mother monster can do no wrong in my eyes.
Love me some Scarlett, any day, any freaking time!!!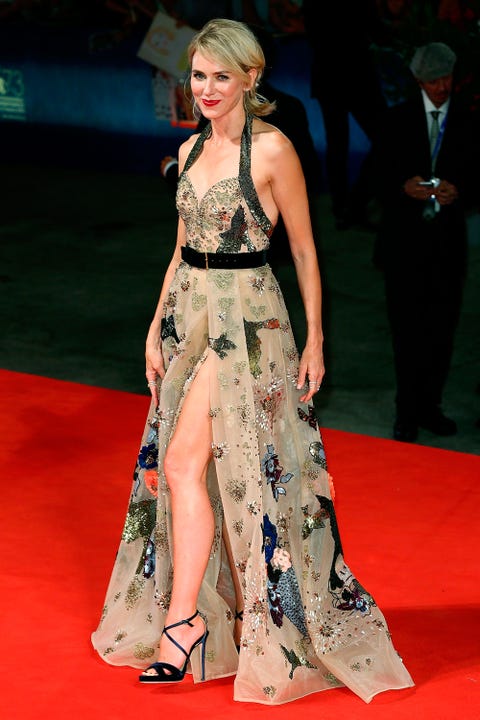 Well, if that thigh-high slit isn't giving you life, I don't know what will.
Amal Clooney is one of my role models, fashion icons and essentially the Queen of my heart, she should be yours too!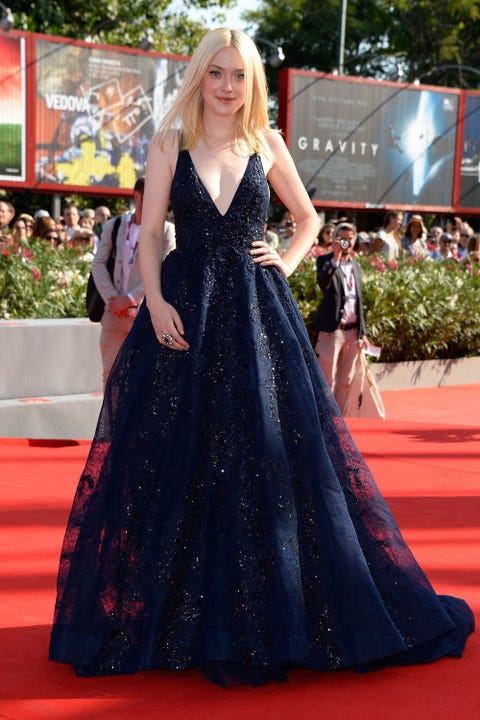 Need I say more, THIS IS JUST AWESOME!!!
Top-Rated Luxury Hotels in Venice.
Venice is one of the most romantic cities in the world and it reeks of water, masks, beauty, luxury and all the finer things in life, what better way is there to celebrate that than spending your vacation within the walls of a classy, elegant, luxury hotel room. These are the top-rated luxury hotels in Venice to ensure you live your best life on your next Venice vacation:
The Gritti Palace
This 15th-century palazzo occupies one of the loveliest spots on the Grand Canal, looking across to the magnificent Salute church. It has equally sumptuous interiors to match, with priceless antiques, beautiful fabrics, sumptuous rooms filled with objets d'art and frescoes. Located at Campo Santa Maria del Giglio, 30124 Venezia VE, Italy, The price is around 586 pounds per night.
Aman Venice
Amal and George Clooney opted to spend their wedding night in this 16th-century Grand Canal-side palazzo, if that doesn't motivate you to spend the night here on your next visit I don't know what will. This grand hotel has a trompe-l'oeil grand staircase which leads up to the piano nobile (noble floor) and rococo ballroom with frescoes and Murano chandeliers. (Btw, there is a painting by the great Giovanni Battista Tiepolo). Located at Calle Tiepolo Baiamonte, 1364, Palazzo Papadopoli, 30125 Sestiere San Polo, Venezia VE, Italy. The price is around 1,365 pounds per night.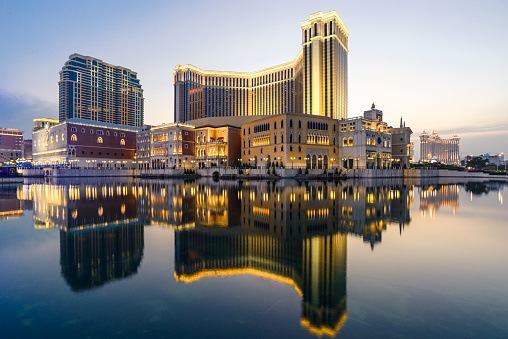 Belmond Hotel Cipriani
A Venetian classic at the eastern tip of the Giudecca island. If you want to stumble out of your hotel lobby straight into the Venetian labyrinth, then this probably isn't the place for you, but it's a five-minute hop into the thick of things, and the hotel's setting, with 270-degree views over the water, is very special indeed. All the rooms have private balconies, gorgeous fabrics and sumptuous bathrooms. Located at Giudecca, 10, 30133 Venezia VE, Italy. The price is around 801 pounds per night.
Bauer Villa F.
This luxury hotel contains 11 luxurious self-catering apartments on the Giudecca island, which range from striking to jaw-dropping, with spectacular views across the lagoon to St Mark's. Think glorious fabrics, exposed beams and coffered ceilings. Located at Villa F.Giudecca, 50, 30133 Venezia VE, Italy, The price is around 1,329 pounds per night.
Hotel Danieli
This luxury hotel is a slice of heaven with Empire-style rooms which oversees the Santa Maria della Salute churches across the lagoon. It is also close to the St. Mark's square, and life honestly doesn't get better than that. Located at Riva degli Schiavoni, 4196, 30122 Venezia VE, Italy. The price is around 438 pounds per night.
JW Marriott Venice
Remember when I wrote about the splendour of JW Marriott Cannes, Well, the Venice centre promises that and so much more. This 15th-century palazzo occupies one of the loveliest spots on the Grand Canal, looking across to the magnificent Salute church. It has equally sumptuous interiors to match, with priceless antiques and frescoes. Located at Isola Delle Rose Laguna Di, 30133 Venezia VE, Italy. The price is around 586 pounds per night
Palazzina G
Nothing screams design and affluence like the Pallazina G hotel. From it's long, low, intimate bar-restaurant-reception room to its 22 dazzling white bedrooms – and its stylish clientèle, the hotel is every thing you would ever wish for. Located at Ramo Grassi, 3247, 30124 Venezia VE, Italy. The price is around 317 pounds per night.
Hotel Metropole
The Metropole is a five-star hotel on the prestigious but congested lagoon-facing riva degli Schiavoni promenade. It is home to several awe-inspiring art pieces so you'd be sure to fill your eyes while basking in the glory and warmth of the pallazzo. Located at Riva degli Schiavoni, 4149, 30122 Venezia VE, Italy. The price is around 236 pounds per night.
These luxury hotels contain pools, in-house spas, bars, full-service restaurants, game courts and a variety of on-site amenities.
Top-Rated Affordable Hotels in Venice
Locanda Fiorita
The Locanda lives up to its name (fiorita means 'in flower') and it's stylized with nice pieces of antique furniture and lovely fabrics. The rooms are bright and airy, subdued in tasteful Venetian style and pale natural-hue pastels. You can expect a good, fresh breakfast. Located at Campiello Novo, S. Marco, 3457, 30124 Venezia VE, Italy. The price is around 60 pounds per night.
Venice Certosa Hotel
This is no ordinary Venice hotel experience: the Certosa is on a lagoon island just off the eastern end of Venice proper, with the bustle of the Vento di Venezia boatyard and yacht marina nearby. The rooms are minimally designed and the hotel also has a late-night bar with a lovely outside seating space, and a restaurant, also with tables outside, which offers a mostly seafood menu. Located at Isola della Certosa, 30100 Venezia VE, Italy.
Locanda San Barnaba
The 13-room, three-star San Barnaba occupies an elegant family palazzo a step-free stroll from the Ca' Rezzonico vaporetto stop. The hotel is immaculately kept and situated in a very friendly environment. Located at Calle del Traghetto, 2785-2786, 30123 Venezia VE, Italy, The price is around 107 pounds per night.
La Villegiatura
La Villeggiatura is airy, elegant, and with a touch more originality in its design than so many hotels with that 'traditional' 18th-century Venetian look. It has very spacious themed rooms which have appropriate frescos on their walls, polished wood floors, exposed wood beams,and beautiful fabrics everywhere. Located at San Polo-Calle dei Botteri, 1569, 30125 Venezia VE, Italy. The price is around 122 pounds per night.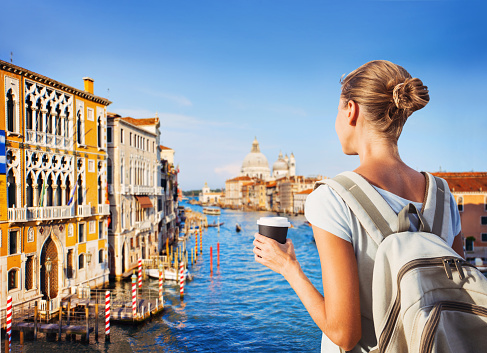 Rosa Salva
The Rosa Salva is a rare gem in the heart of San Marco: an elegant, contemporary hotel offering twenty-two gorgeously decorated and well-appointed rooms. Located at Sestiere di S. Marco, 950, 30124 Venezia VE, Italy. The price is around 129 pounds per night.
Ca' San Giorgio
The Ca' San Giorgio guesthouse, located in the lovely, tranquil Santa Croce district, is an excellent choice for visitors who realize that the challenge of navigating Venice's maze of alleyways is part of the fun of visiting La Serenissima. Located at Salizada del Fontego dei Turchi, 1725, 30135 Venezia VE, Italy. The price is around 96 pounds per night.
Hotel Sant'Antonin
Hotel Sant'Antonin is a beautiful budget hotel that offers 13 classic-contemporary rooms – three with private terraces and stunning private gardens close to St. Mark's Square with an attentive staff who create a home-away-from-home ambiance for guests. Located at Fondamenta Furlani, 3299, 30122 Venezia VE, Italy.
Best Restaurants in Venice
Ristorante Glam
This luxury restaurant offers eight tastes endemic to the lagoon, and special meals like spaghetti with smoked eel and fennel leaves, salted cod with local herbs. etc. (Tip; You should make a reservation in advance as this restaurant has some of the most coveted tables across all of Venice. Located at Calle Tron, 1961, 30135 Venezia VE, Italy.
Terrazza Danielli
This restaurant offers a menu that showcases recipes dating back to 1909, including a Dandolo risotto with sea urchin, sole and fresh tomatoes. You can overlook the Grand Canal, Punta della Dogana, Giudecca and San Giorgio Maggiore, and of course nothing is better than munching on amazing meals while having the best view in the world. This restaurant is located inside the Hotel Danielli.
Met Restaurant
This luxurious restaurant harnesses Venice's legacy as a once-mighty spice trading empire into a thoroughly modern menu and atmosphere. Most notably, it has a vegetarian tasting menu, which infuses classic dishes with Asian elements, such as aubergines with beetroot and wasabi flavoured broccoli cream, topped with crunchy artichokes. This Michelin-star restaurant is located inside the world-famous, five-star Hotel Metropole.
Osteria Campo Santa Marina
This luxury eatery specialises in raw fish (think scallops carpaccio with shavings of smoked goose foie gras and sweet white wine jelly), and the house-made pastas are expectedly excellent as well (like black tagliolini with cuttlefish ink sauce and citrus-flavoured bread). You might want to entrust your palate to the chef completely, ordering the tasting menu to get a comprehensive sense of the restaurant's lagoon fare. Located at Campo Santa Marina, 5911, 30122 Venezia VE, Italy
Trattoria al Gatto Nero
If you want to feast on hyper-local specialties like homemade tagliolini noodles with spider crab or Burano-style risotto with small fish from the lagoon waters surrounding this canal-side gem, then this awe-inspiring restaurant is the place to be. Located at Via Giudecca, 88, 30142 Venezia VE, Italy
La Zucca
La Zucca (meaning "the pumpkin") offers a very romantic setting and has one of Venice's most unique menus. The rotating menu includes succulent specialties like roasted rabbit with chestnuts, while vegetables play the starring role. Located at San Croce, 1762, 30135 Venezia VE, Italy. (P.S. Reservations are essential).
Venissa
Smoked eel, beetroot, kombucha and sorrel or turbot with potatoes, porcini mushrooms, black summer truffle and bay leaves are just a few of the items you'll get to enjoy when ordering the tasting menu of this awe-inspiring restaurant. You can complete the Venetian experience by sitting outside and gazing at the restaurant's vineyards and vegetable gardens. Located at Fondamenta di Santa Caterina, 3, 30142 Venezia VE, Italy
P.S. Venice, just like Paris and Cannes honestly holds a special place in my heart, I have been an avid lover of the city and it's history for as long as I remember, and of course, i'm a sucker for art so it's where I have always envisioned my fairytale wedding to take place, and so I have nothing but adoration and admiration for the city, I'm also learning sweet, sweet Italian (Wish me luck!).
Ideas for this post were gotten from: http://www.planetware.com http://www.telegraph.co.uk http://www.timeout.com http://www.thecrazytourist.com http://www.veneziaautentica.com
The first and second parts of this dream destination series were on Paris and Cannes respectively, Make sure you check them out! You can read the post on Paris here, https://misspresident.home.blog/2019/08/09/a-guide-to-paris-my-top-three-dream-travel-destinations-pt-1/, and also the post on Cannes here, https://misspresident.home.blog/2019/08/16/a-guide-to-cannes-my-top-three-dream-travel-destinations-pt-2/
XO, ANGEL JOANNE.
JOIN OUR COMMUNITY: LIKE, COMMENT AND FOLLOW THE BLOG.