I'm pretty sure i'm not the only person that always finishes her makeup, and gets those awkward glances and whispers from people around, like they literally can barely see anything, and although some people may take that as criticism, nothing gives me greater joy. Everytime I do a makeup routine, I always aim for the no-makeup makeup look, cause it honestly feels like the best of both worlds, (Yes! I love Hannah Montana) which results in making me feel so much better.
Of course my sisters and friends, have asked how I always manage to accurately get my makeup done minimally, and not occasionally over do it. My answer is: I do slip up, a lot. I just always have my beauty blender and makeup wipes handy, and those always keep me in check.
So basically I'm going to give a run-down of how I achieve that look, EVERYTIME.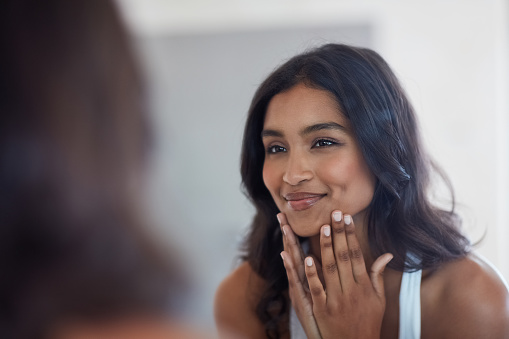 STEP ONE: Moisturize, Moisturize, Moisturize………………and of course Prime
Honestly, I can't say this any louder, The benefits of a moisturizer remains unparalleled, and I spoke about that in my previous post on makeup kit essentials. Read more on that in the link below, https://misspresident.home.blog/2019/07/24/makeup-kit-must-haves-for-beginners-in-any-season/, You absolutely need to moisturize the skin to smoothen it out and increase it's moisture level. You should also never leave out your primer, in order to create a smooth base for the rest of your makeup.
I recommend the LÓreal Paris Hydra Genius Daily Liquid Care for Normal to Oily Skin for those with Oily Skin, and if you have dry skin, you should go for the LÓreal Paris Hydra Genius Daily Liquid Care for Normal to Dry Skin.
STEP TWO: Define your brows
Please don't go crazy here, you just need a brow pencil to fill in the brows. (Tip: Never use a black brow pencil, unless it's part of your agenda to dress up like it's halloween season), and you need a clear brow gel to hold everything together.
I recommend the Anastatsia Beverly Hills brow kit, It contains everything you'd need to achieve any kind of brow to fit your needs at a particular time.
STEP THREE: Go all out on your skin
You should apply a foundation to even out your skin tone, and of course, apply a light-weight concealer (Blend with your fingers!) if you have stubborn blemishes a foundation can't hide, and also to cover under eye-circles. (Tip: Do not use full coverage foundations for this look, You need to give your skin some hydration, while still letting some of your freckles radiate through).
I recommend the Nars Radiant Cream Compact Foundation and for a concealer, I'd go with my favorite, Nars Radiant Creamy Concealer.
STEP FOUR: Create the most natural-looking contour on the face of earth.
Just because you're rocking a no-makeup makeup look doesn't mean you should rule out the best beauty gift to mankind–Contouring. The key is to not make it look quite as dramatic. So, where you might usually go 2-3 shades darker than your normal skin tone with your regular contour routine, when it comes to a no makeup makeup look, your best bet is to keep it in the 1-2 shades darker range. Once you have your most desired cream contour kit and your flat brush, trace the appropriate shade into the hollows of your cheeks, along the outer edge of your jawline and forehead, and down the edges of the bridges of your nose, as well as just under your lip, and then, BLEND, BLEND, BLEND!
I recommend the Estee Lauder New Dimension Shape + Sculpt Face Kit. It's perfect for all skin types and it is actually not too pricey in comparison to other Estee Lauder Products.
STEP FIVE: Dew is Ideal
The main aim of the no-makeup makeup look is to achieve that faux-natural glow, so adding a nice dewiness to the tops of the cheekbones and the bridge of your nose can go a long way in making your face look natural but still glowy. Rather than going for a traditional shimmery powder highlighter, opt for a creamy one with a clear base, that would basically look just like natural dew to the skin. The texture of the product will also blend right in with all the other cream products on the face.
I recommend the RMS Beauty living luminizer, the creamy formula sinks into your skin and actually makes your face look very glowy, and not glittery–which is exactly what we need.
STEP SIX: Yes Mascara/No Mascara
This is the only makeup routine that i'm proud to say mascara is optional, You can definitely slay this makeup look by just curling your natural lashes and you can also add a little bit more volume with a mascara. (Tip: You should probably use a brown mascara, so it appears lighter)
I recommend the CoverGirl Lashblast volume mascara, This makes you look like you just got lucky with extraordinary lash genes
STEP SEVEN: A little lip colour never hurt anybody
You should probably go for a nude or pinkish-red lipstick to achieve a lip color similar to your natural ones (Tip: Always blot out the excess colour with tissue)
I recommend the NYX Professional Makeup Soft Matte Liquid Cream, cause this will give you a light and airy lip finish.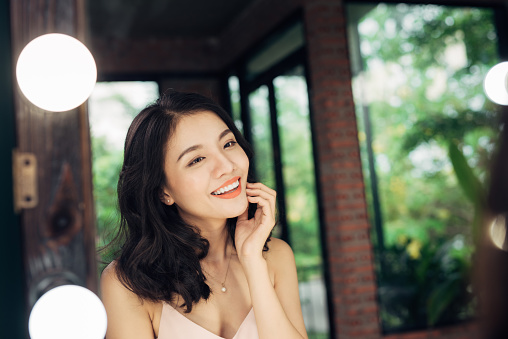 STEP EIGHT: Say yes to the Cheek Tint
Your no-makeup makeup look is yearning for a natural glow, and nothing gives that better than a little shimmer, you can achieve this by applying a cream blush to the apple of your cheeks (Don't forget to blend), or by blending in a cream bronzer with a damp sponge.
I recommend the Laura Mercier Crème Cheek Colour, and for a bronzer, I'd go for the Milk Makeup matte bronzer
STEP NINE: Music to my Eyes
You need to be careful in choosing an eye shadow colour for this look, The key is to never go too crazy, so I'd advice you stick to colours within the brown and nude family, and also stay away from eyeshadows with a shimmery finish, and lean towards those with a matte finish since they look the most natural.
I recommend the RMS Beauty Eye Polish, The formula is great and it's very easy to blend, and in the golden-bronze shade, Utopia looks just like your natural eyelids but better.
STEP TEN: Lock it all in with a Setting Spray
To keep your dew game on, while locking in your makeup to last for several hours. You need to spray, spray, spray (Please keep your mouth closed!)
I recommend the Urban Decay All Nighter Long Lasting Setting Spray.
You owe it to yourself to end this look, looking as glowy and natural as Lily and Emily look in this picture.
P.S. This is not my everyday makeup routine, although i'm a frequent user of it, this is just a routine I use to achieve the no-makeup makeup look, which i'm honestly a sucker for. And, unlike my previous post, Check in the link below: https://misspresident.home.blog/2019/07/24/makeup-kit-must-haves-for-beginners-in-any-season/, the products listed here haven't been personally used by me, but they are great brands which have been recommended by renowned beauty influencers and bloggers.
XO, ANGEL JOANNE
JOIN OUR COMMUNITY: LIKE, COMMENT AND FOLLOW THE BLOG.